WHITEHOUSE by Just10 Group
Remember in my Early Vday Date Post I mentioned that DIDD arranged a hair styling session for me + my boy?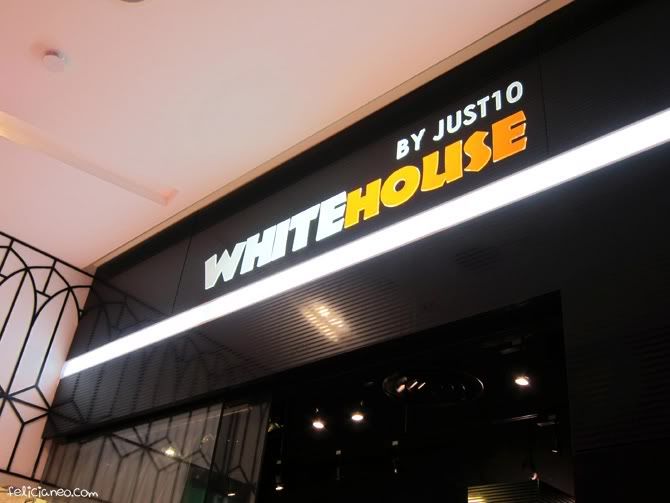 We headed down to WHITEHOUSE by Just10 Group at Orchard Central! The boss was really kind to give me a hair treatment as well!! No amount of hair styling is enough if you don't have healthy looking hair right!
Before the treatment!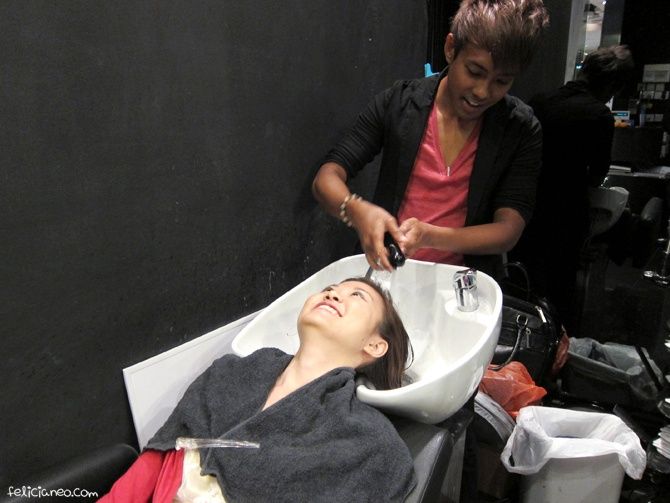 Washing my hair with a special curl shampoo that's not so harsh. So that it cleanses scalp and hair thoroughly without loosening my curls from my perm! It also opens up cuticles (which are pores in the hair) slightly, so that mask can be absorbed better into the cuticles when applied later. (:
Treatment Mask!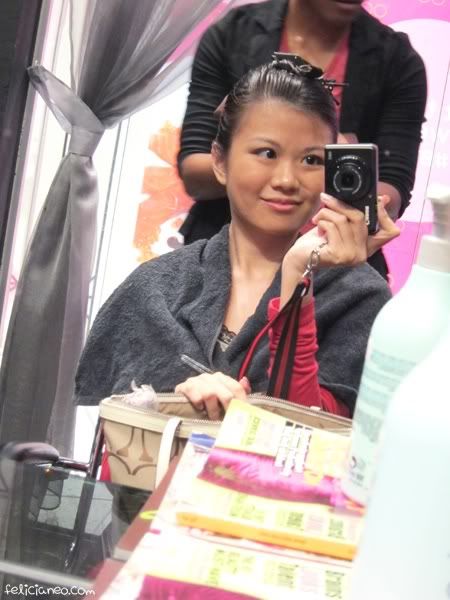 My stylist applying the mask for me.
Technique to Apply Mask:
Ever wondered why hair stylists tend to rub your hair when applying treatment mask? This technique of constant rubbing of hair creates heat )caused by friction) and forces mask into the hair. It also helps to close the cuticles!
This curl mask which WHTIEHOUSE used for me also enhances curl effect, smoothen out split ends, all without loosening the curls.

Products used! Shampoo on the left and treatment mask on the right. Because of my perm, it is important to use products meant for curled hair cos it wouldn't weigh down the hair. So that your curls can be prolonged!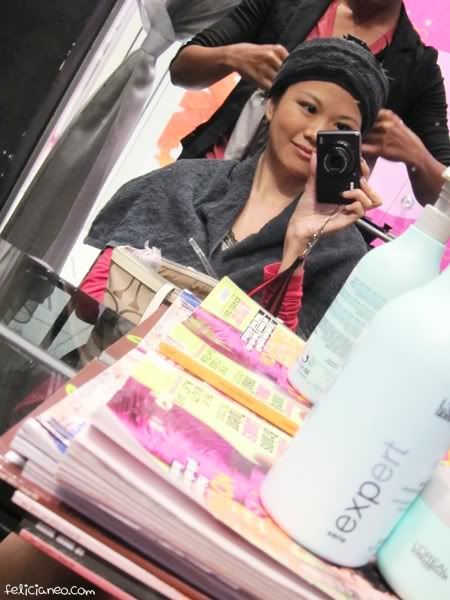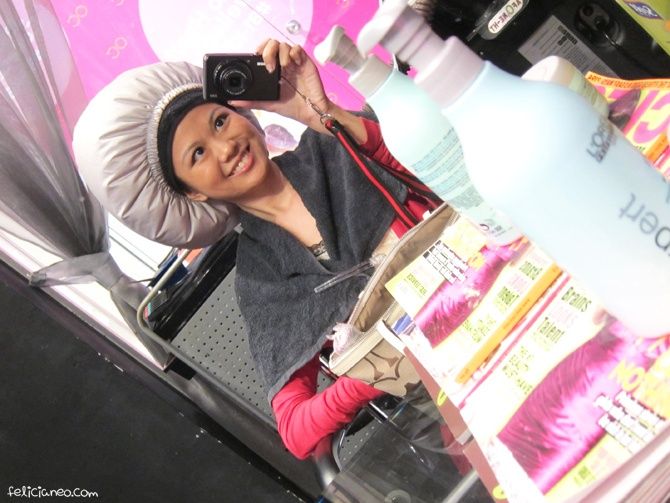 After which, an O3 machine is used to open up cuticles even further and helps mask penetrate deeper. The difference about this machine is that it emits cold mist and not hot ones. Cold mist help to deposit Oxygen into the hair, giving hair shine and bouncier curls! (While hot mist only opens up cuticles without depositing Oxygen)
Steaming in progress!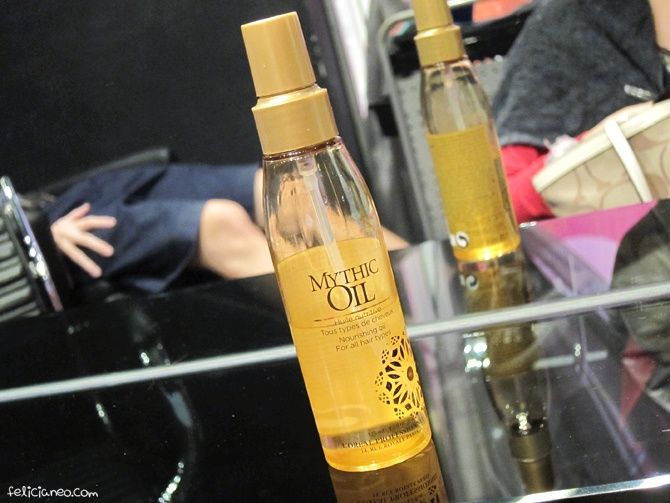 After rinsing the hair with cold water (to close up cuticles), this oil is applied to the hair to close up cuticles even more! So that treatment mask will still continue to work overnight while locked in the cuticle.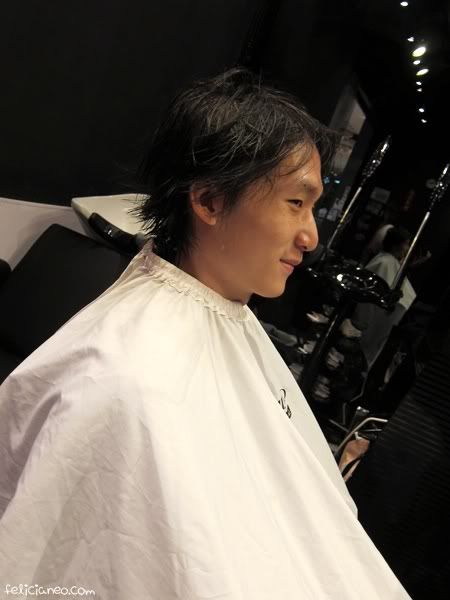 T was also given a hair cut + styling!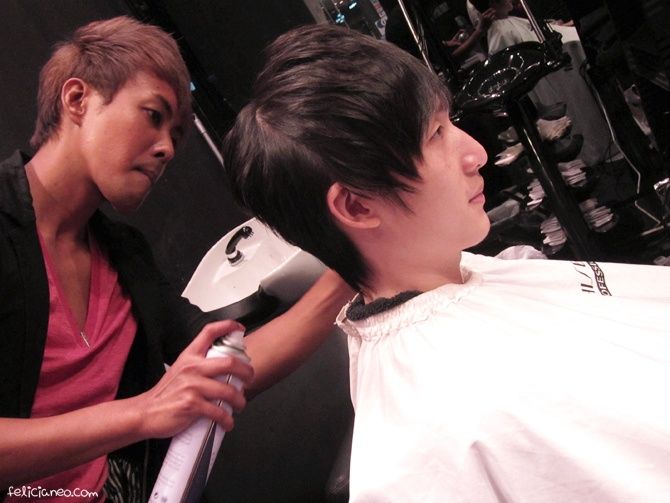 My very first time seeing him with styled hair. He always just leaves his hair flat whenever we go out. Unlike some guys who spend hours styling their hair before they go out.
Anyway, he was telling me yesterday that he was at the airport and this girl came up to him and said:"You look like JJ Lin!!" HAHHAHA. Okayyyyyyyy. A little laa, the eyes and the skin tone. But well, if only T can sing as well as him haha!

Hair styling for me!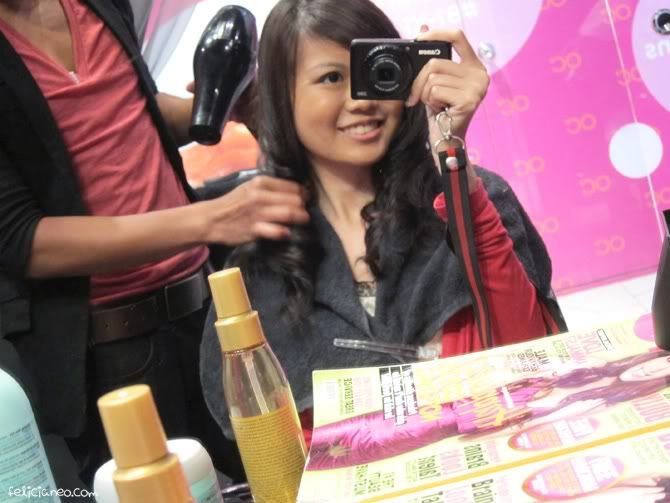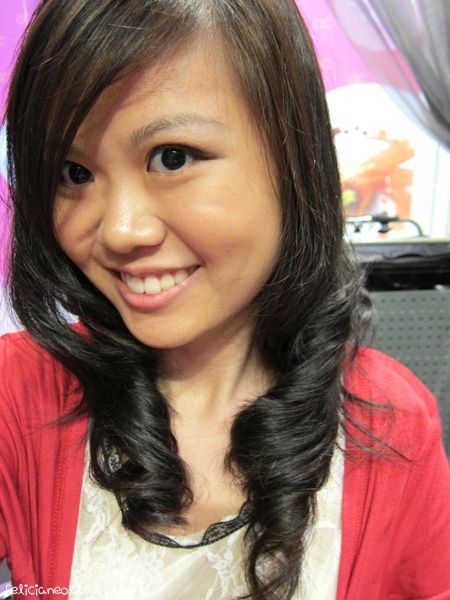 Love salon styled curls!  And look at how shiny and healthy looking my hair is after the hair treatment!
With our stylist, Adrain! Very friendly and nice guy. Hair salon visits are usually very long, so it really helps to have someone nice to talk to so that time goes by faster! (:
Thank You WHITEHOUSE! (:
WHITEHOUSE
Orchard Central
181 Orchard Road
#B1-26
Appointment: 65098209
It's 29th Feb tomorrow btw!!! Leap year this year! Actually, I wonder how it feels like to be born on 29th Feb, and have your birthday celebrated like once every few years only.
Related Posts: