Updates on my life!
Hellooooooooo! I've been on a social media hiatus recently and I apologise for the slow updates on this space. I don't know how many of you out there care about what's happening in my life but not that I really care because this is a space for me to write and look back on what has happened in my life. (:
Anyway, my result for my final sem exams was out 2 days ago and that was the last time I could feel the adrenaline rush from checking results. ): Before that I had this silly thought that what if I didn't managed to clear one of my mods…. But it's silly because I've never failed a single module before and it isn't that easy to fail I guess. But you know, there's STILL a possibility haha. I would say that my results this sem is really unexpected. In fact, I wasn't expecting for anything much because I already have a job offer. Nevertheless, I'm really happy that I could achieve a final GPA which I deemed impossible, that I wasn't really expecting much but at the same time I'm secretly hoping for it. Do I even make sense? Lol. Thanks to the A+ for FYP. How in the world did we even get that grade?! I guess what mattered most is that I've actually improved in the last 2 years of uni life. Looking back, I wished that I could have scored better in the early stages. But then again, grades isn't everything and like I've mentioned, it doesn't really matter anymore.
Okay, so I'm currently enjoying my last bit of freedom before I join the workforce (really soon) I wasn't expecting to get a job this fast but well, the opportunity came and so I took a leap of faith. It was a tough choice for me over the past 2 weeks.. Opportunities literally dropped from the sky (I only applied personally for 1 of the company) and I had to weigh the pros and cons and decided really really long before finally deciding on the final one. All 3 companies were big corporations, and I struggled really hard to decide between working somewhere which I'd derive job satisfaction from or take up the other which could pay alot better but I most likely would not enjoy the job scope.
I find it really amazing because months before I was graduating, I had no idea what I wanted to do. Even during my school term when everyone has already started applying for job, I didn't apply for a single one. For some reason, I wasn't afraid and I wanted to take one step at a time and focus on my studies and FYP first. Even though I didn't know exactly what I wanted like the job scope, I knew what I wanted in a company. Things like job satisfaction, nice manager/supervisor, somewhere that appreciates you and a nice work environment. I actually prayed about the things that I wanted in a job and asked God to lead the way, that it'll miraculously find its way to me. At that point in time I wasn't expecting much but before I knew it, not long after exams, I had job opportunities for me to choose without me doing much, and for that I'm really thankful for it. But I guess things don't come this easy. You still have to figure out which is the correct route to take. And so after a very stressful period, I've finally made my choice. I'm not sure if this is the correct path but I think I've considered every aspect carefully enough to think that this is the most logical route to take. And I just recalled someone saying to me: "You did not get this by mistake." Keep faith and I shall see where this takes me.
Ohmy didn't realised that I wrote a wall of text, so sorry if you're bored!! Some pictures to add life to this wordy post.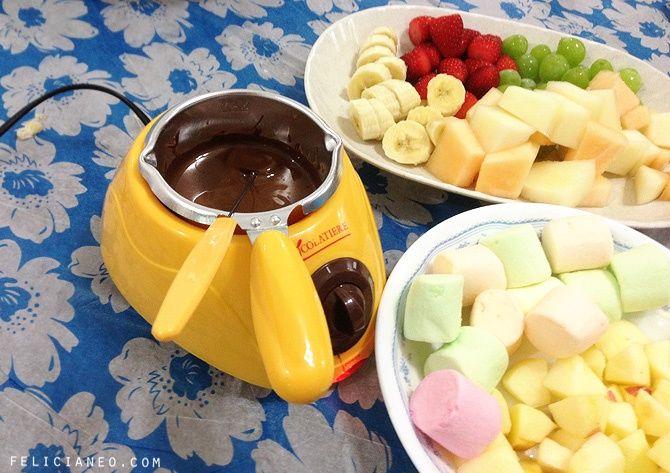 Made an impromptu trip to Ger's house the other day and her family was whipping up some feast!! Sorry no pics of the food cos I was too busy easy to take any pics lol. But here's a picture of the chocolate fondue using the machine which her aunt bought online! So small and cute right. Btw, if you're looking at hosting guests and too tired to cook, you can always order deliveries from Foodpanda!!
Dressed down with no makeup. My worn to death The Velvet Dolls embroidery dress.
I think I'm becoming uglier and uglier by the day. (Like honestly, not fishing for compliments like: "no la where got!!" -_-) I don't bother dressing up anymore, doing up face or even my hair.. ): I don't even bother bringing out my camera anymore. Maybe I'm trying to enjoy more of the moment instead of wasting time to take pics, or maybe I'm just feeling too lazy to do anything. :/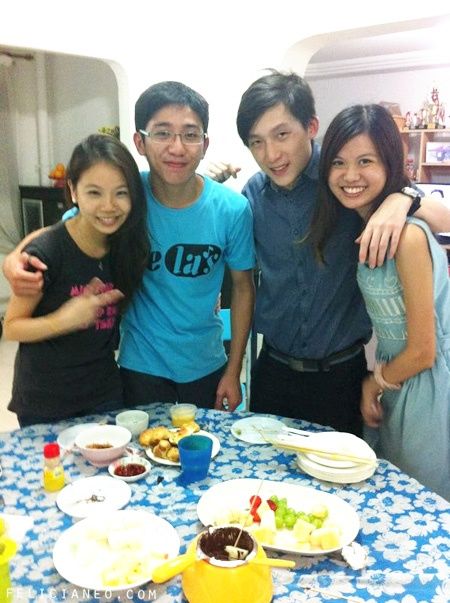 With our boyfs. (:
Okay, abrupt end to this post hahaha.
Related Posts: