The beautyblender: My New Fabulous Makeup Sponge!
Introducing……
The beautyblender!!!
(Anyway, I put it on the table and my brother was saying how come there's an egg on the table haha!)
I've heard about beautyblender since last year and have been wanting to try it out myself. So yayyy I was really happy to be given a beautyblender to try out myself!!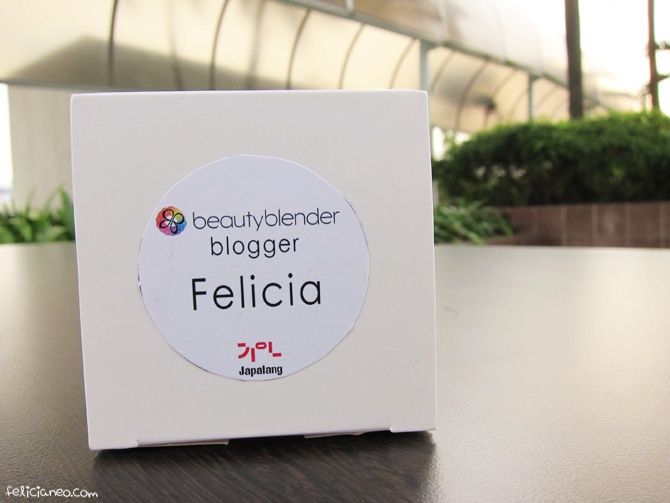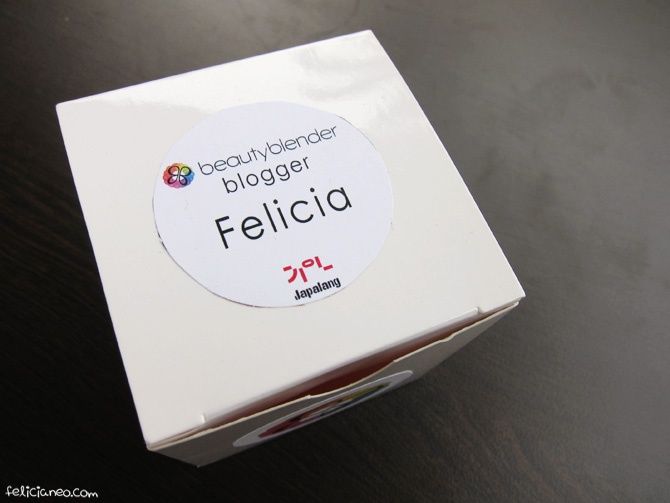 A little background on the beautyblender..
The reason why it's shaped like an egg is because it follows the contours of our face the best! Today, the beautyblender is used by many Hollywood celebrities themselves and was featured in many magazines!!
Pretty in a box!
*Note: The beautyblender sold in stores comes with a clear plastic packaging and not in this form!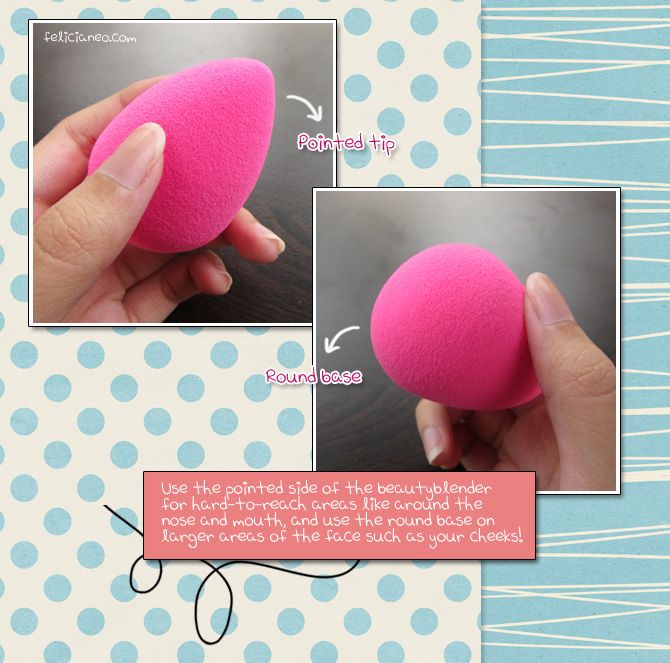 The beautyblender might look like any other makeup sponge.. I've tried using those makeup sponges (from Sasa, etc.) and the coverage they give is honestly not good. Large amount of foundation always end up absorbed by the sponges they just don't make my face look good. Ever since then, I've been using my trusty foundation brush with gives me really decent coverage and the kind of finish I like  to my face. But I've heard raves about how beautyblender is widely received back in U.S, and that even Hollywood stars uses it, so I've been itching to give this a try myself!
Initially my boyf was laughing at me for wanting to get a sponge when I showed him the beautyblender in stores. But it's NOT just a normal makeup sponge okay! The coverage this little baby gives is extremely good. The beautyblender is like an eraser, with each stroke it seems like my blemishes are magically erased right before my eyes! It helps to apply my foundation on smoothly and evenly as well. No streaking at all! LOVE the finishing of my foundation on the face and it looks as if I don't have any foundation on cos it blends so nicely! I've always urged my friends to get a foundation brush because it I really like the finishing and coverage foundation brushes help to give.. The beautyblender works the same way but I like it that the beautyblender is able to reach areas that are hard-to-reach with my foundation brush (like around the nose).
Oh! And did you know that the beautyblender can be used for all kinds of makeup (not only foundation!), like loose powder, concealer, etc. AND NOT ONLY THAT!! It can be used to apply skincare products or even suntanning lotion as well!! It's SO versatile!
The beautyblender is best to be used slightly damped to achieve maximum effects (when applying foundation). I've read about that the reason why you should use it slightly damp is because this would minimise absorption of foundation onto the sponge. Run the beautyblender very slightly under the tap and give it a little squeeze to squeeze out excess water and proceed with your normal use! Note that you shouldn't make it too wet if not your foundation will turn out like droplets of water.
Remember to wash your beautyblender with a makeup cleanser (or their special cleanser) after every use to keep it clean and free from bacteria. Leave it to air dry to be ready for the next use! With proper care, your blender can last up to 6 months!
Okay anyway, here are some pics of my face:
This is how bad my skin condition is without makeup. Really bad blemishes. (Okay, maybe my camera too good then too exaggerated cos it looks quite scary here)

And this is after foundation (using the beautyblender) + powder. Blemishes more or less covered.
The other side of the face. No Photoshop okay! Ahhhh makeup is such a wonder.
Of course you've to use the right foundation with decent coverage because the beautyblender is not some miracle pill okay. You need to still use a decent foundation with good coverage and the beautyblender just helps to add on to the airbrush kind of finish to the foundation. But please don't use your fingers or a sponge because it really doesn't give a nice finish to your face!
beautyblender has just launched their new PURE range. It's actually the same beautyblender but in a pretty white form!
I love the colour white actually.. But I still went ahead and chose the hot pink cos it's more colourful and I think I'll feel happier seeing it haha! Anyway, the solid cleanser available in the PURE™ kit is really interesting! It's like your liquid makeup remover in solid form! Very suitable to bring it along for travel as well.
The beautyblender is sold in a few packages.

Left: Single beautyblender ($29.90)
Right: Duo kit ($39.90)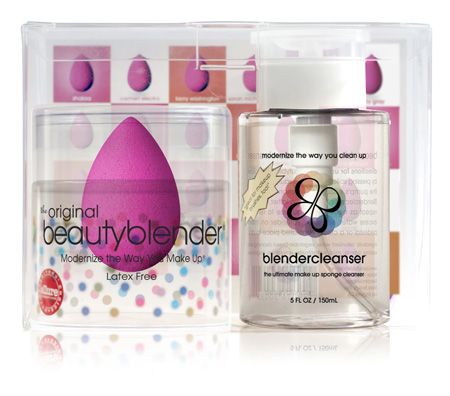 Starter kit: 1 beautyblender + blendercleanser ($49.90)
*blendercleanser's available separately at about $29.90 I think!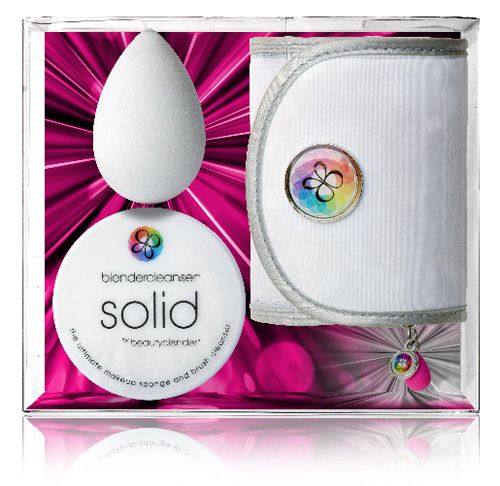 PURE™ kit ($76)
*Items in this kit are unavailable separately at the moment
The beautyblender is sold exclusively in BHG (Only at outlets where they have the ATL beauty section. Bugis and Bishan's BHG should have!). And to celebrate BHG's 17th anniversary this April, they are giving a special $17 discount off the beautyblender PURE™ kit!! So that works out to only $59 for the 3 items!! While stocks last! Stocks are very limited so do hurry down if you are interested in getting the set!
Alternatively, you can get the beautyblender at www.beautycarousel.com at the convenience of your house! (The PURE™ kit is exclusive to BHG though!) Free shipping provided to local residents. Great news for overseas readers – Beautycarousel does overseas shipping too! (:
—
Anyway…. Char and I are currently in 2nd place for the judging scores (for the Cineleisure contest) and we'll need to pull up our votes if we want to win this thing! So we'll need each and everyone of you to help us!
Initially I was on the verge of giving up on this contest because we're in our most busy period of uni so we don't have much time to call for votes and everything.. But seeing how we're in 2nd place for judging scores, I really don't want to end up with nothing after putting in SO much effort for our posts. (And by the way it goes it seems that even though we're in 2nd place it doesn't help much cos our votes are seriously lacking behind)
Here's the judging scoreboard from the judges on our posts: http://www.nuffnang.com.sg/cineleisure-next-online-sensation/scoreboard/
And honestly, I really hate rallying for votes because I know how it can be really annoying to some people. But for the sake of my hard work… I'm so sorry if this constant call for voting annoys you but please bear with me and we'll really appreciate it if you guys can help out! It'll take only 1min (or less) of your time!
Go to this link to vote: http://www.nuffnang.com.sg/cineleisure-next-online-sensation/vote/
Step 1:

Step 2: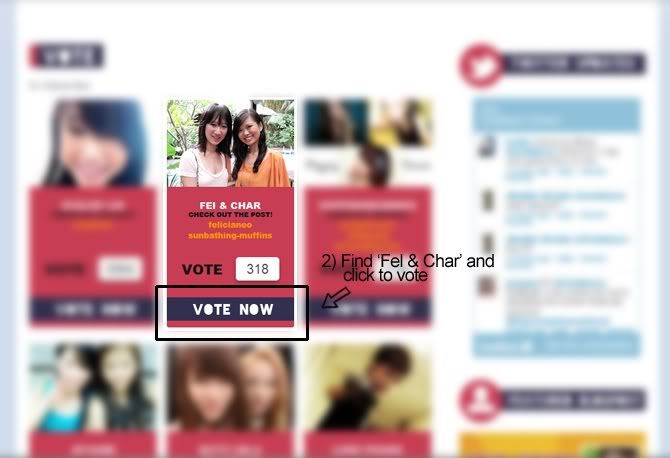 It wouldn't take much of your time and it really means a lot to us!! Voting can be done once every hourly and we'll need at least 1k votes to be able to get into Top 3. But of course I won't expect you all to vote hourly, but maybe a few times whenever you remember?
http://www.nuffnang.com.sg/cineleisure-next-online-sensation/vote
If we win, I promise to share the vouchers with you people and if we don't win, I'll still do nice giveaways on the blog to thank you all for your effort okay!
Related Posts: