Review: Organix Ever Ageless Cherry Blossom Skincare.
I'm sure you've seen the brand Organix when you're browsing through Watsons stores because their unique packaging design actually caught my eye quite a number of times! They're more known for their hair products actually but today I'll be talking about their skincare collection!
Introducing their new Ever Ageless Cherry Blossom Skincare Collection which is infused with an alluring blend of cherry blossom extracts to help preserve skin's youthful resources and restore a visibly ageless looking skin.
The Organix Ever Ageless Cherry Blossom Lotus Floral Exfolitator.
This gentle cream exfolilator contains fine buffing grains from nourishing lotus seeds and organic cherry pits to stimulate skin renewal while gently exfoliating dead skin cells; instantly reviving skin's appearance.
I've used many micro-beads exfoliator before and this is by far the best I've tried! Leaves the skin super smooth and refreshing after use!!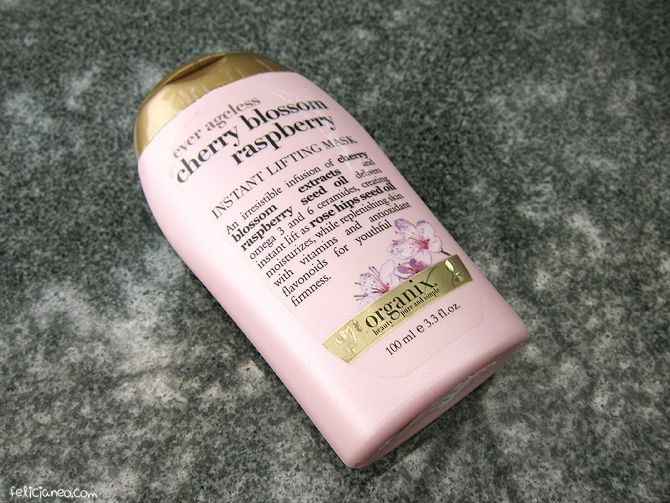 Organix Cherry Blossom Raspberry Instant Lifting Mask, another item from the Cherry Blossom range.
Contains cherry blossom extracts and raspberry seed oil delivers omega 3 and 6 ceramides, creating instant lift as rose hips seed oil moisturizes, while replenishing skin with vitamin C, D, E and antioxidant flavonoids for youthful firmnes
Lightweight and easily absorbed into the skin.
Both products smell really heavenly of flowery sweet scent. The Organix Ever Ageless Cherry Blossom Skincare range can be found in most Watsons stores. (:
Btw, I've done a random generation of 2 names for the Crocs giveaway!! Thanks for the awesome response but I've only 2 pairs to give away!
And I'm so happy to see many new names for the giveaway (I suppose that means new readers?) Anyway, congrats to Angie and David for winning! Have already dropped you guys an email yesterday so do get back to me ASAP with your details!!
Related Posts: