Review: New items from Hada Labo!!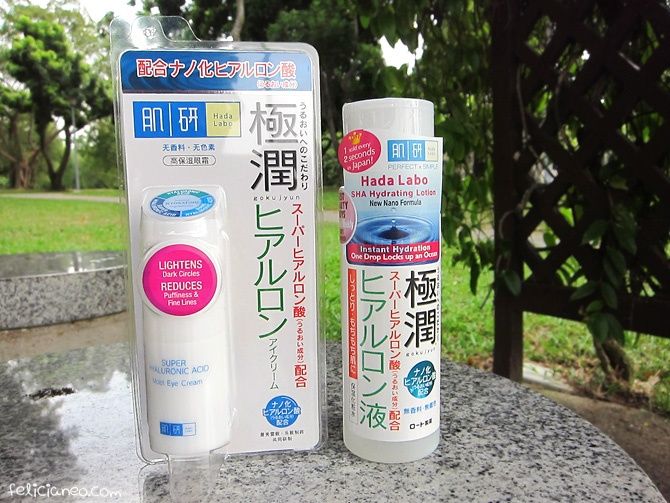 I've new goodies to share with you all!!! Hada Labo has recently launched the Hada Labo Super Hyaluronic Acid Moisturizing Eye Cream, and also re-formulated their best selling product, the Hada Labo SHA Hydrating Lotion now with a new Nano Formula!!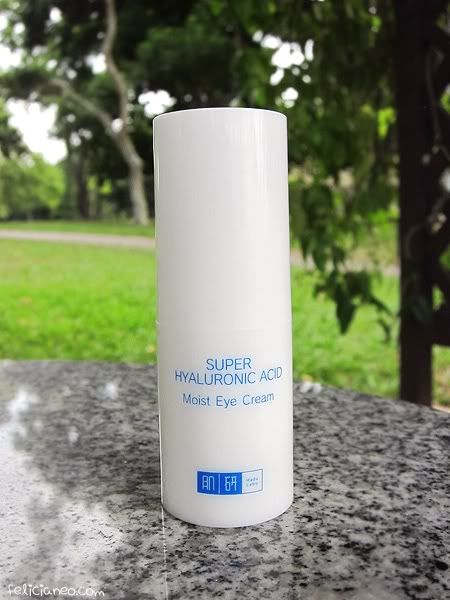 Hada Labo Super Hyaluronic Acid Moisturizing Eye Cream comes with 3 types of Hyaluronic Acid (Nano Hyaluronic Acid, Hyaluronic Acid & Super Hyaluronic Acid) to deeply moisturize the delicate skin around the eyes for immediate suppleness and softness. It is pH balanced with no animal derivatives, fragrance, mineral oil, alcohol nor colorant and is gentle enough even for sensitive skin. With long hours in front of the com, eye cream is definitely something everyone should incorporate into their skincare routine!!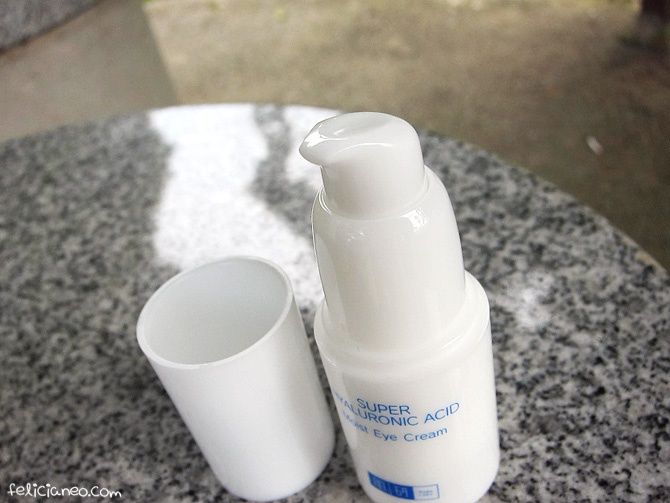 Comes in a pump bottle to prevent contamination. Oh, be careful when dispensing! Just half a pump would do to avoid dispensing too much an amount.
Bottle might seem small but I think this can last a reasonable period of time since you only need a teeny weeny amount per use!

Texture is really light and gets absorbed into the skin really quickly! This prevents unnecessary tugging and pulling of the skin, just gently pat the cream around the eyes. Remember to use your ring finger to dab anything on your eyes because we do not exert too much force with our ring finger and our eyes are very delicate I suppose you do not want wrinkles! The cream doesn't feel oily at all (be sure to use a small amount only) and feels really hydrating! I've only used the product for about 4 days so I'll continue to monitor on the progress. Been wanting to find a good eye cream!
Hada Labo SHA Hydrating Lotion (New Nano Fomula)
I've purchased a bottle of their older version after hearing much raves about it, and honestly.. the product didn't make me go 'WOW'! I wouldn't say it's bad, but it was just.. really normal for all the hype.

But now this product comes with a new improved formula!! The new Nano Formula which boosts its hydration power, and now enables full and thorough hydration from skin surface to deep within. The new Nano Hyaluronic Acid molecule is 1/20 the size of the normal Hyaluronic Acid's, enabling penetration to areas deep within the skin.
I must say I like the new formula better. The product seems to be more easily absorbed into the skin, and leaves it supple and hydrated! Skin feels more refreshed as well. I like how brands continue to improve their products to make it better! (:
(:
Hada Labo Super Hyaluronic Acid Moisturizing Eye Cream ($21.90) and Hada Labo Super Hyaluronic Acid Hydrating Lotion ($22.90) are both available at Watsons stores!
Related Posts: