Review: Milky Foot 3D Intense Exfoliating Foot Pad!
Recently I've tried the most amazing product I've ever tried in awhile (in terms of how it works and the results of it)!!
THIS ITEM!!!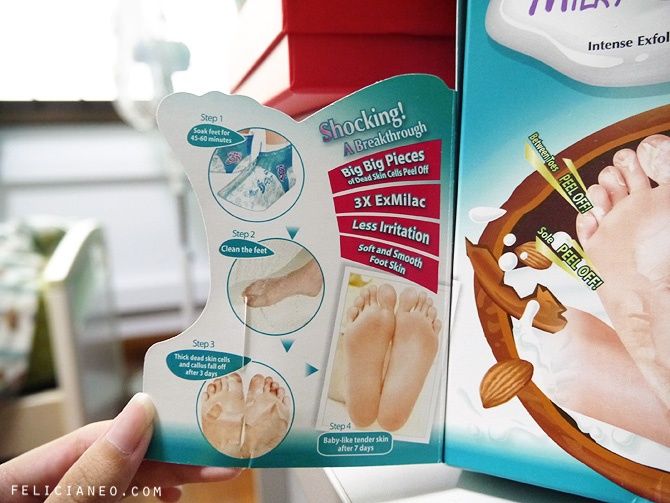 It's called the Milky Foot Intense Exfoliating Foot Pad and is a patented 3D Foot Pad that helps to literally PEEL OFF the dead skin on our feet!! (Read on, it's damn amazing)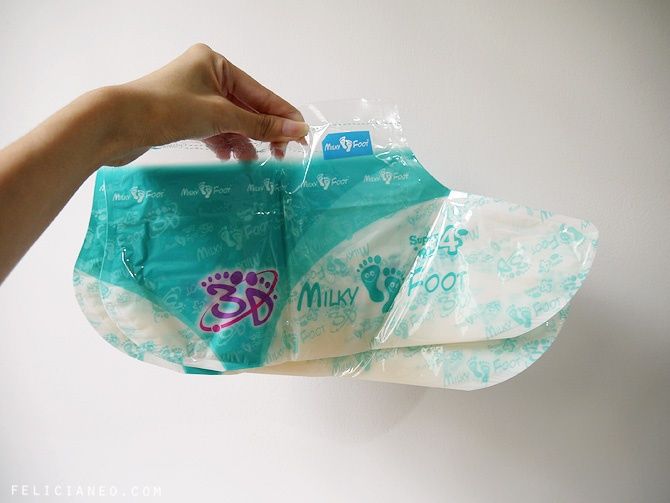 Inside the box contains this pack which includes 2 socks-like looking things, one for each foot.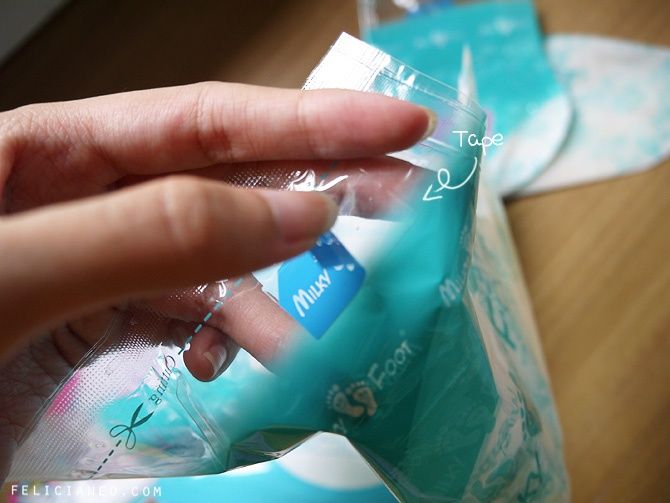 You're supposed to cut it along the lines, put your feet  immediately in and secure the wrappings around your leg with the tape at the side.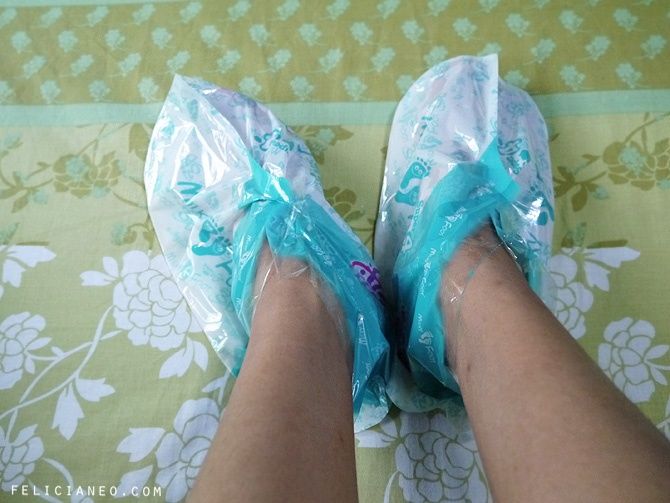 Soak your feet in this for 60mins (the packaging says not to soak it longer than 60mins so be careful of this point!). After that, remove it and wash your feet with warm water.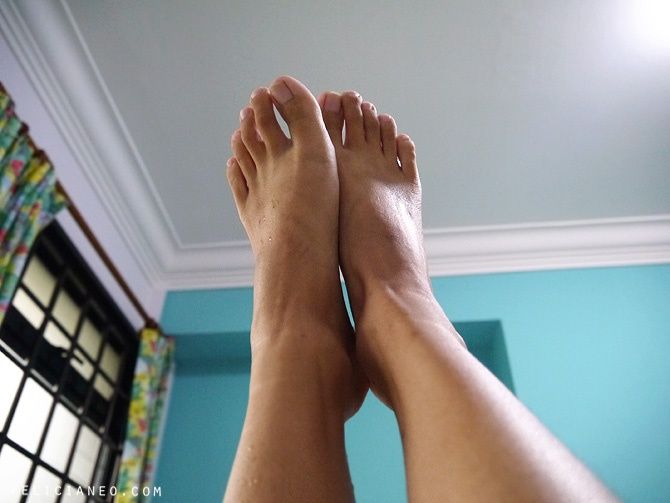 And after that….. Nothing happens hahaha!!
(Okay laa, you're supposed to wait for 3 days before the peeling process works)
So while wearing the 'socks', I did feel a very strange sensation in the feet. At first the feet starts to warm up for the first 45mins, then after that my feet became cold after removing and washing them with warm water. But don't worry, nothing hurt!
The packaging says that the peeling process will only begin after 3 days of use. I was actually observing my feet throughout the process and for the first 3 days my feet still looked normal, and on the 4th day, it started peeling!
The first signs of peeling. I thought it was really amazing and I kept looking at it hahaha. Had to resist the urge to peel the skin off because I read online reviews that someone tried peeling and it didn't turn out well, SO DON'T PEEL!
I'm so sorry I've to put you through horrible looking pictures of my peeling feet and disfigured looking toes.. I've really weird looking toes I must admit haha. But this is the first sign of peeling on the toes area!
And on the 5th day, I can see the entire thing coming off!!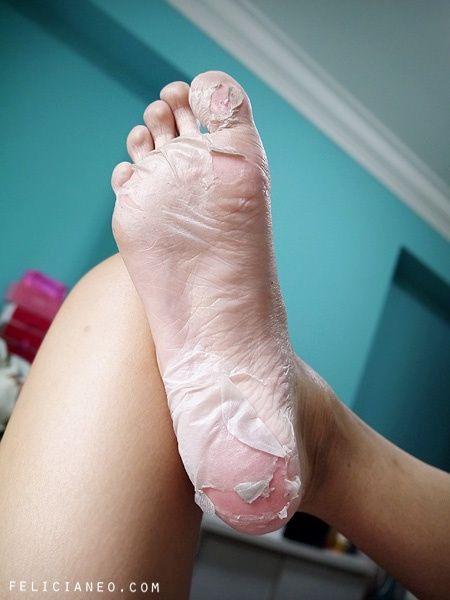 Okay this looks gross. It looks almost like my feet is wrapped with some sheet of paper, but it's actually my dead skin!! Anyway, this is how it looks on the same day in the afternoon. I came back from lunch with my dead skin hanging and kept lifting up my feet to show my brother HAHAHA! And beneath the falling pieces, I can actually see baby smooth new skin! Actually at this stage I couldn't take it and started peeling off the pieces. The key is to make sure that it's properly exfoliated already before peeling off so that you don't accidentally cut into the flesh.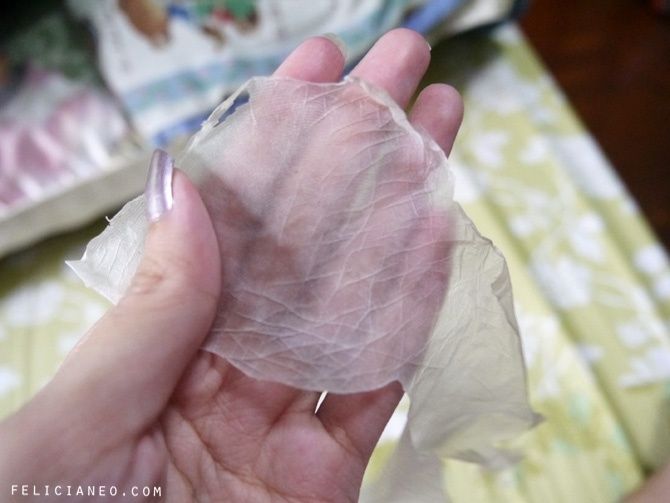 I was so fascinated with the fallen pieces that I kept observing it. It's really my dead skin cos you can see all the scaly parts which are from your feet!
And here's a half-exfoliated part of my foot. You can see that the non-exfoliated part it's scaly and dull looking, while the exfoliated part it's much brighter!! The dead skin on the side of the feet as well as at the top is much thinner compared to the soles, very much like when you're removing a peeling mask.
More 'before' and 'after' pics. You can obviously see that in the 'After' pic, the foot is much brighter, smoother and pinkish looking!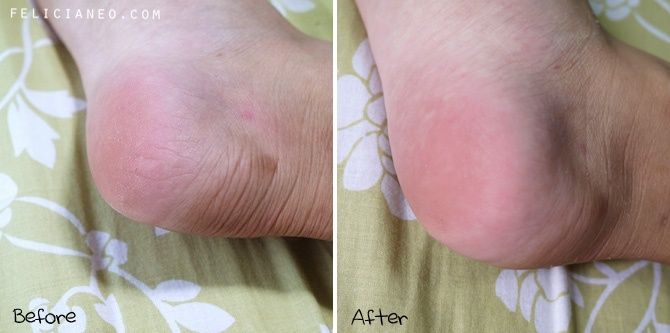 And omgg, previously my heels were so dry and slightly cracked. After removing the dead skin it's so much better!!
So sorry for so many pics of my feet haha but I think this product is so super amazing I can't stop gushing about it. Initially I was still skeptical if it'd work or what if my skin keeps flaking, etc. etc. But now I take back all my concerns about it.
The main ingredients in this product that I think helps to remove the dead skin are AHAs like Mandelic Acid and Glycolic Acid to help remove the dead skin cells. I still don't understand how come it'll take 3 days for the peeling to take place though. And usually exfoliating products you won't be able to see the actual skin coming off you get what I mean? This one is like woah you can really see the whole sheet of skin coming off! I'll definitely repurchase this item again and I'm thinking of regularly exfoliating (like once in 2 months) to keep my feet smooth and soft! But remember do not use it too often cos over-exfoliation might lead to thinning of your skin! And maybe get one for my mum as well cos she has super bad cracked heels and she keeps peeling her skin only to make it worse!!
Anyway, the Milky Foot Intense Exfoliating Foot Pad can be found at Watsons, Guardian, BHG, Nishino Pharmacy and OG!
And do check out Confirm Trading's FB Page (distributor for Milky Foot in SG)!
https://www.facebook.com/ConfirmTrading
(:
Related Posts: