Review: Megan Miller Polishes.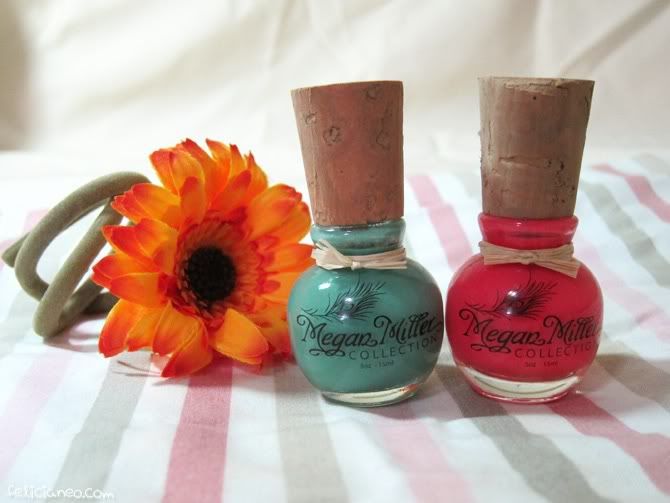 Was introduced to a new brand of polishes to try out! Did you know that other than the usual OPI, China Glaze, etc., there are still alot of other nail polish brands out there? Happened to stumble upon meimeisignatures.com and I'm surprised by the many other brands that are out there!
So here's two new polishes that I'm trying out. Two popular colours from the Megan Miller collection: Caribbean and Coral Bliss.

The packaging of the bottle is really unique. The cap is made out of cork material and each piece is also hand tied with all natural raffia providing a unique feel and look to every piece. This truly makes each piece a one of a kind and gives the whole bottle a very back-to-nature feel. And this is in line with their environmentally friendly polish and consists of the finest ingredients!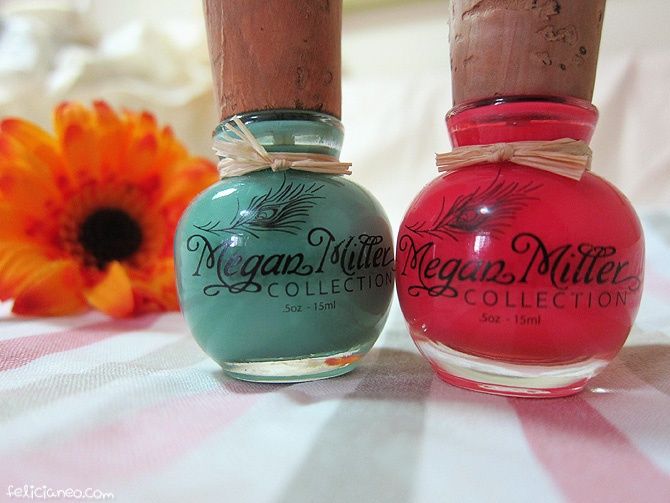 I noticed that the polish does not have a very strong chemical smell that's very uncomfortable for the nose (and not to mention causes brain damage from inhaling too much of these chemicals). I wonder if it has got to do with the ingredients used. Megan Miller also pride themselves for smooth application of their polishes and long-lasting wear.

True enough, the polish formula is really smooth and easy to apply! The polish is a little sheer though and required 3 coats to build up. I like how the finishing of the polish gives a very beautiful shine like I've applied top coat already when I didn't! Has been on my fingers for 2 weeks already and it's still lasting well! No chips at all, I'm impressed!
Caribbean is a muted turquoise shade while Coral Bliss is a bright coral shade that looks a little like cherry red rather than pinkish on the fingers! Colours are slightly darker than in photos! Couldn't really capture the true colour.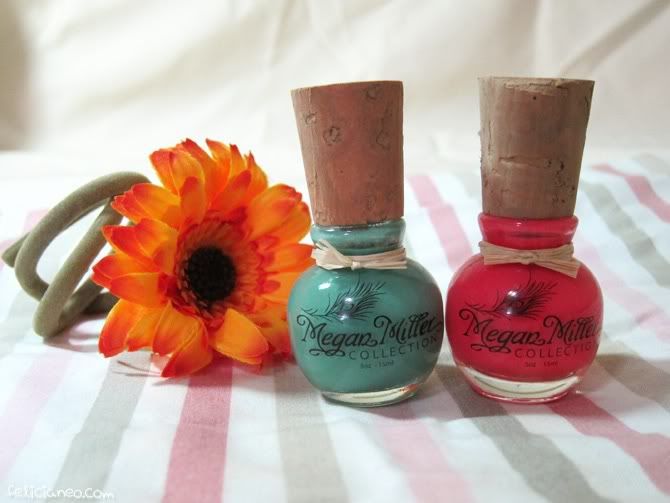 Here's the link for the collection: http://meimeisignatures.com/category.php?id_category=211
Or you can check out other polishes brands at the sidebar, there's many to choose from! (:
Here's my Nail of the Moment. Something simple I've done up using the two colours + abit of white!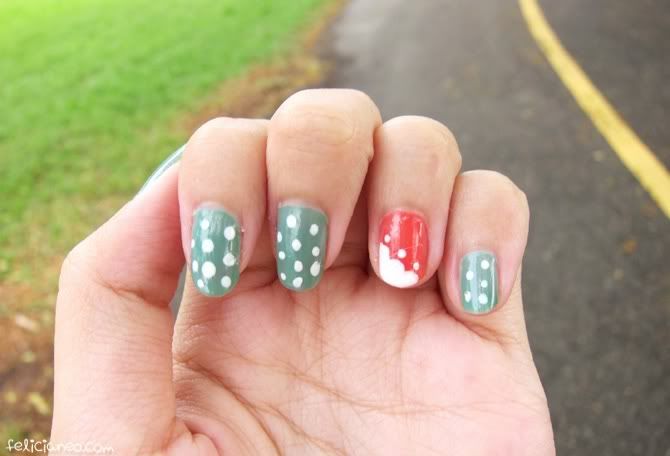 Somehow it turned out looking a little Christmas-y. Lol!
Related Posts: