Review: Cure Natural Aqua Gel + Water Treatment Skin Cream
If you've not heard about Cure Natural Aqua Gel, then you're missing out ALOT!! I've heard about it from Charlene quite awhile back but never had the chance to use it.
Cure Natural Aqua Gel is a skin exfoliator and was first introduced in Japan in 2002 and despite having zero advertising dollar spent till date, it consistently topped the charts in @Cosme, a popular Japanese beauty website, as the best-selling skincare product.
Exfoliating our skin is actually very important because our skin is continuously regenerating itself and there is a need to remove dead skin and dirt to allow the new skin to regenerate better. Exfoliating doesn't exactly help to cure acne but it does help to unclog our pores and control acne as well as other skin blemishes. Your face will also appear brighter and clearer with exfoliation!
Cure is very gentle on the skin as it is made up of 90% Hydrogen Water (very natural!) and is suitable for even sensitive skin. I've friends who have sensitive skin and feedback that Cure works great for them and doesn't cause irritation.
Here's how to use Cure:
1. Use Cure after your usual face cleansing.
2. Pump a small amount of Cure and gently massage the skin/face.
3. Small micro white beads will appear after awhile (these are your dead skin cells!!)
4. Wash away the beads after you're done!
Cure can be used practically anywhere with skin. You can use it on the face, body, even nail cuticles!
And I really love the product!! I've used various exfoliators in the past (1 similar concept as Cure, and others that comes in scrub form containing micro beads) and the result Cure gives triumphs all the rest. My face became brighter and smoother and best of all it didn't hurt at all. Exfoliating never felt this gentle (you know how some scrub exfoliators you can feel the friction) and it made my face baby smooth. And I'm pretty sure that the white specks that came out are dead skin cells because I've tried using Cure again on the same spot of the exfoliated skin and there weren't any white flakes anymore unlike this similar exfoliator I've tried last time. Because our skin takes time to regenerate, exfoliation is only need about twice a week! (I did once a week only) So this huge bottle of Cure is estimated to last up to 4-6months!
Just to share, my face condition is really problematic ever since putting makeup and I've lots of clogged pores and stubborn acne scars on my cheeks and chin area. Just yesterday, I looked longer into the mirror and realised that my skin is amazingly better and clearing up!! The best thing is that I'm actually using really minimal facial products lately (sometimes I even just go without any products after basic cleansing cos I'm too tired!) and Cure was the only thing that I could think of that's different in my skincare regime. Now my skin is brighter and more radiant looking and I'm hoping with constant exfoliation, it'll help prevent acne and help heal my scars better!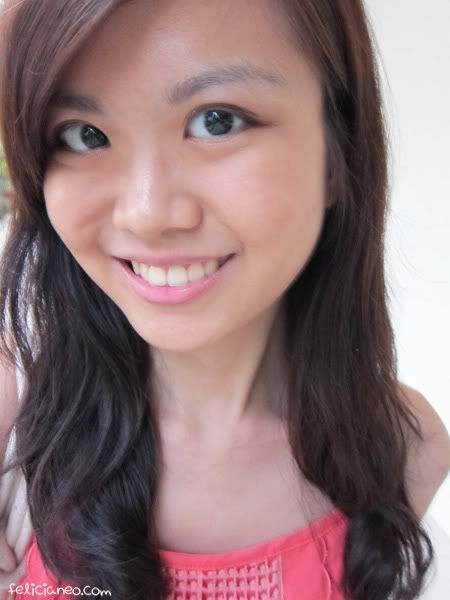 Here's a picture of me taken today after work with minimal makeup. I'm surprised the blemishes didn't show much even though I put lesser foundation than usual! And I asked my brother if my skin was better and he said yes. (With conviction lolol)
And this year, Cure Natural Aqua Gel celebrates its 10th anniversary! To mark this milestone achievement, they will be holding a Cure 10th Anniversary contest to give away 600 of the exclusive Cure Water Treatment Skin Cream to their loyal customers!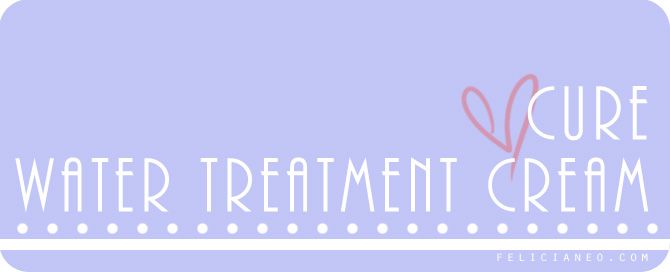 The Cure Water Treatment Skin Cream is a popular lightweight moisturizer that the manufacturer, TOYO Life Service, specially produced in consideration of its staff who suffer from dry hands from dealing with cardboard boxes daily. Customers who have tried this moisturizer have gave positive feedback for this product and wanted to purchase to stock up but it is so exclusive that it is not for sale anywhere in the world!
The texture of the cream appears as gel initially, and after massaging, it actually turn into droplets of water!! So amazing! The Water Treatment Cream helps to lock in moisture and hydrate the skin. Doesn't feel sticky at all and is absorbed quickly into the skin after just a few pats. I really like the aftermath feel of my skin after using the Skin Cream + Natural Aqua Gel!
To win this skin cream, customers simply have to purchase Cure Natural Aqua Gel at Watsons Singapore from 13 June to 23 July 2012, and email them 1) their particulars [name, mailing address, contact number] and 2) screenshot of their purchase receipt to enquiry@japalang.sg by 23 July 2012. 'Like' their FB Page for announcement of the winners!
—–
And I'm sponsored a set of Cure Natural Aqua Gel + Water Treatment Skin Cream to give away!! (The Cure Natural Aqua Gel is retailing at $42 in Watsons. Water Treatment Skin Cream exclusively not for sale) So happy that I get to share this wonderful item with ONE lucky winner!
To Participate in the Giveaway:
1) 'Like' Cure's FB Page
2) Leave a comment in the following format:
Name:
Email:
Comments (if any):
Please leave only one comment. Giveaway would last for 5 days from today! (Close on 9th July, Monday, 2359hrs) Only opened to those based in Singapore. All comments would be screened to protect email privacy. (No comments will be shown in the comment area! Only visible to me, so don't worry if you can't see your comment after you've submitted)
I'll be choosing a winner randomly after giveaway has ended and the people at Cure will mail you the item!!
Related Posts: