Review: Brush Guards + Giveaway!
I never knew the importance of Brush Guards till I watched Michelle Phan's Youtube video on how to clean your makeup brushes. So I decided to get some Brush Guards from a spree!
I didn't get the original The Brush Guard sets, but a dupe version instead. (So happened there was a spree for it, so I just joined to try it out since it was much cheaper than the 'branded' one!)
Edit: Some of you ask about where I got my set… It's actually a brand called 'Makeupshow', but I actually got the extras from a spree one of my blogger friend had. So I'm not very sure where you can get them either… Maybe you can just google 'Brush Guard Sprees' and see what comes up?
Brush guards are also good if you bring along your makeup brushes overseas. They act as a cushion and help protect your brushes from any damage when you pack them in your luggage!
Here's how to use it:
1) Do your normal makeup brush cleaning routine.
2) Squeeze excess water out from the brushes
3) Shape bristles
4) Slip on Brush Guards. (Always insert the brush guard from the brush handle and move it down to cover the bristles, and not the other way round!)
Don't they remind you of those mesh wraps around fruits you find in supermarkets?? HAHA!
Holes in the mesh also help to provide ventilation for drying. Do note that this set comes in 2 different lengths of brush guards. The longer one is for bigger brushes like powder, blusher brushes, while the shorter ones I used them for smaller brushes! The brush guard is very expandable, so it can fit really big powder brushes as well!
This is how my brush looks like after washing. So afraid that the bristles will stick out like this even after drying. But brush guards to the rescue! Helps to protect the shape of your brushes.
I'm amazed by how expandable the guards are. Initially I was wondering how in the world can such a small thing fit into my big fat brush. But it went in really easily!
And tadah. Good as new!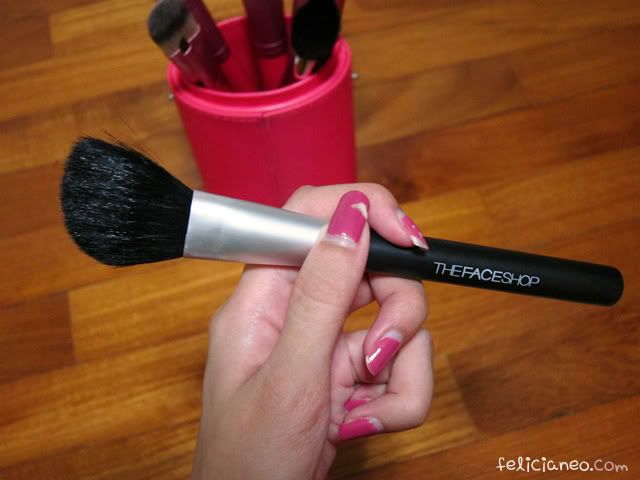 Before I used the Brush Guards, this Face Shop brush I had was super out of shape. Though not perfect now, it's alot better than before using the guards. Didn't manage to take a picture of the 'Before' state to show you all the difference. ):
My brushes after using the brush guards. Nice and in shape!
The difference between the dupe version and the original The Brush Guard is that the dupe version doesn't come in sizes for different brushes, while TBG ones has got different sizes to cater to different brushes. (Even for foundation, blusher, etc.) But I find that the dupe version is good enough for me!
And yeahhh the highlight of this post:
Since I've 2 packs of the Brush Guards, I've decided to give away one to one lucky reader of mine!!
To participate in the giveaway, leave a comment in the following format:
Name:
Email address: (VERY IMPT! Entries without email address would be void)
Giveaway is only open for those with an address in Singapore. Please leave only one comment.
All comments will be screened to protect email privacy.
Giveaway period will be opened for 5 days from today. (Ends on 24rd, Saturday 2359 hrs)
I'll do a random results generator and winner would be announced in one of my entry and contacted via email!
Ending off with a very informative tutorial on how to use the guards + dry your brushes! Here's the link: http://www.youtube.com/watch?v=0C7mhSVdvAA&feature=player_embedded
Related Posts: