Review: Biore Skin Caring Facial Foam Series (Acne Care + Scrub)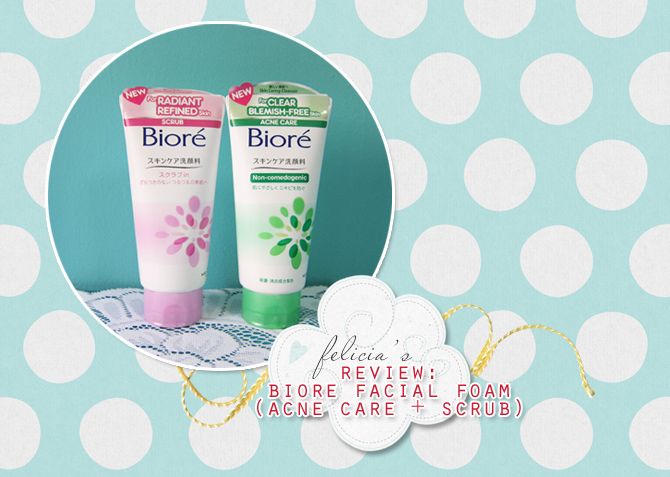 Today I'm going to share my favourite cleanser of the moment!! I've been using Biore's latest Skin Caring Facial Foam Series in Acne Care and Scrub which was sent for my reviews and I'm loving both items!
So what's so special about Biore's new cleansers? The new cleansers actually come equipped with the Skin Purifying Technology (SPT). SPT provides high cleansing efficiency and works to re-balance the skin: reducing oil on the T-zone and replenishing moisture on the U-zone.
I had a choice between the 4 variations and I chose Acne Care because I've acne-prone skin. I like how my skin feels super soft and doesn't feel dried out after cleansing. The cleanser feels extremely gentle and not too harsh or heavy on the face as well. And after 3 weeks of testing, I realised that I've significantly lesser new pimples popping out compared to last time. I looked through the ingredients and I'm so amazed by this product because it doesn't contain the well-known ingredients like Salicylic Acid that helps prevent Acne, yet it works so well!! It does deliver its promise of reducing oil on the T-Zone and I find my face matte for longer than usual!
How I use the foam is to dispense a little of the product, and lather it with water for awhile to form a thick foam before using the foam on my face. I find that this makes my skin smoother because of lesser friction between my palms and my skin because the foam acts as a barrier.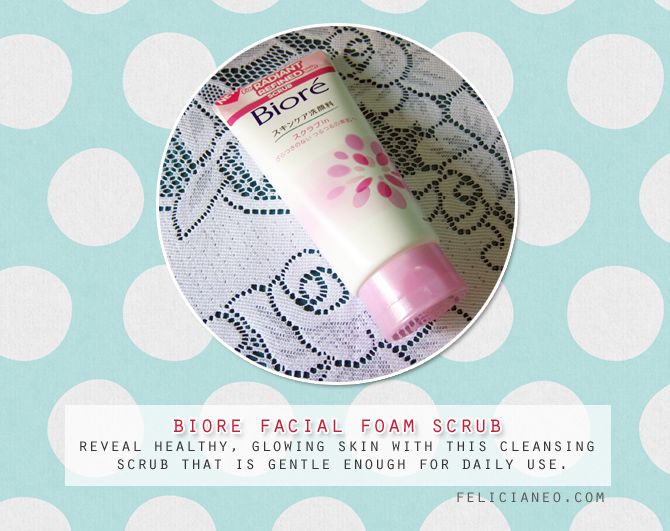 Scrub for exfoliation.

The texture of the Srub is just like the Facial Foam, except that there are tiny pink beads mixed in it! And even though this is a scrub, the beads are very tiny and not harsh on the skin at all. (Just remember to be gently and not use too much force!) It is said on the product that the scrub is gentle enough to be used on a daily basis but I only use this twice to thrice a week to avoid over-exfoliating my skin. Exfoliating of our skin is very important because it helps remove the dirt and dead skin cells on the surface of our skin so that our skin can better absorb the products that you apply afterwards. Did you know that accumulation of dead skin cells can also cause clogged pores which might lead to acne problems in future?
The new Biore Skin Caring Facial Foam Series comes in 4 variations:
Mild: For normal to combination skin that's seeking softness and smoothness.
Extra Moist: For dry and dehydrated skin that's seeking suppleness and comfort, with no tightness.
Acne: For blemish-prone skin that's seeking clarity.
Scrub: For all skin types that are seeking clarity, smoothness and refinement of pores.

My favourite cleanser at the moment and I've been recommending it to my friends who've been asking about cleansers!

Both items come in a big tube of 130g, enough to last me for a year I reckon! I'm not sure about the price but it should be pocket-friendly enough!
Related Posts: