Pet Society
HELLO EVERYONE. I JUST ENDED MY LAST PAPER THIS MORNING! *Throws confetti*
Before I do a proper post, here's something random which was supposed to be scheduled but I didn't have time to put it up….
I was bored the other day so I logged into my Pet Society account on Facebook.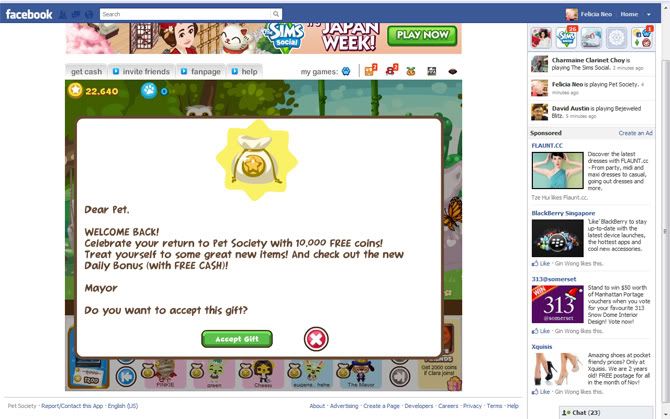 Waaa 10,000 coins to welcome me back.
Haven't logged in since a year ago I think.
I like Pet Society for their pretty graphics and items! And I love games which allows us to decorate the house. (Like Sims.) Plus you can dress up your pet too!!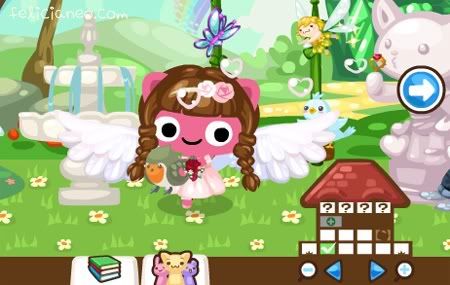 There's many many rooms to your house in pet society. I've ermmm.. 7 normal rooms, 2 gardens and 4 secret rooms (the secret rooms are much smaller).
A tour to how I decorated each individual rooms!

1st level. Enchanted Garden theme. You can't tell but there's flying butterflies and fairies! And bubbles blowing.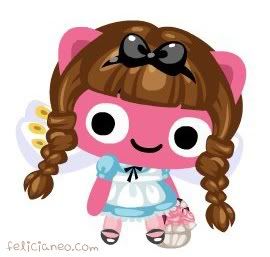 Alice in Wonderland outfit!

2nd level. I left it there from ermm last year's Christmas decorations.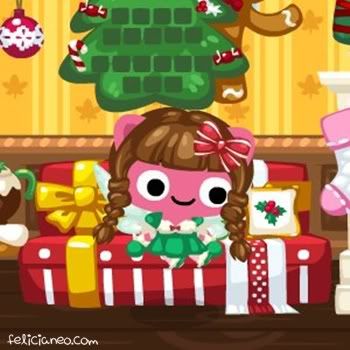 Elf outfit to match the room!

Next – The dining room. Or something like that HAHA.

Bedroom!! Filled with stuff toys and displays! (I still have more stuff toys, but no space to put them anymore!)
Bathroom.

Hahah. Matching outfit! Look at those cute bunny slippers!! (There's chick and panda slippers too!)

My aquarium room. The wallpaper's special such that the fishes can swim on the wall itself and there's no need for a tank!

Look at the interesting fishes I've caught from the pond! Watermelon fish, doughnut fishes, banana fish, cupcake, NEWSPAPER…. So proud of my collection. (Abit outdated though, they keep coming up with new ones!!)

Here's more! Huge birthday cake fish. (Caught using a birthday cake after numerous attempts!) And safety pin fish!!

The top level! Like some sky balcony theme.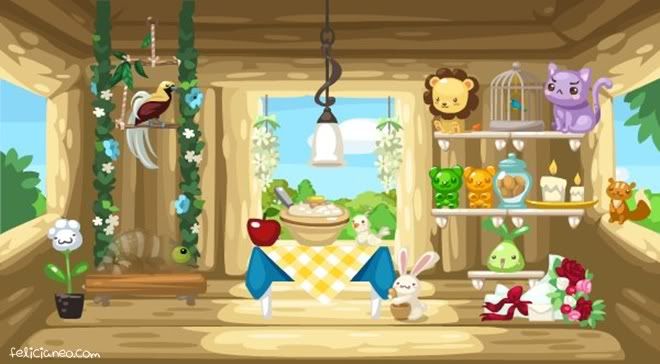 Secret room #1 – Treehouse.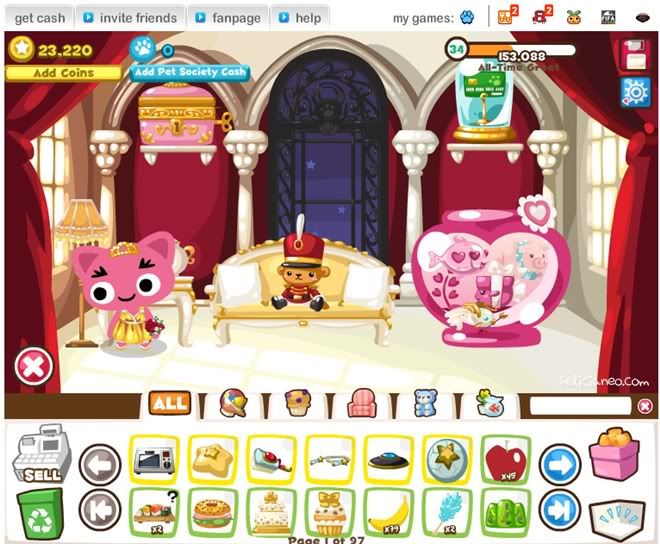 Secret room #2. See the fish tank at the side. Vday fish tank filled with vday fishes!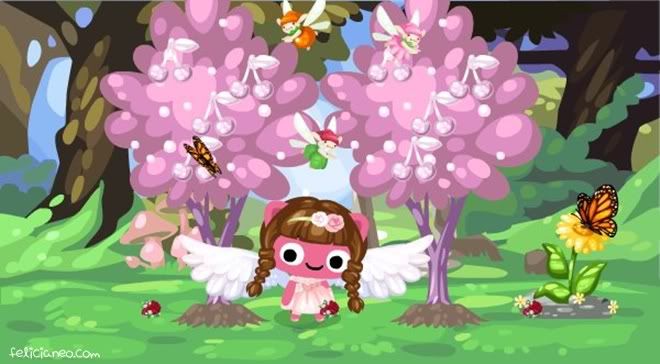 #3. Secret Garden with 3 flying fairies!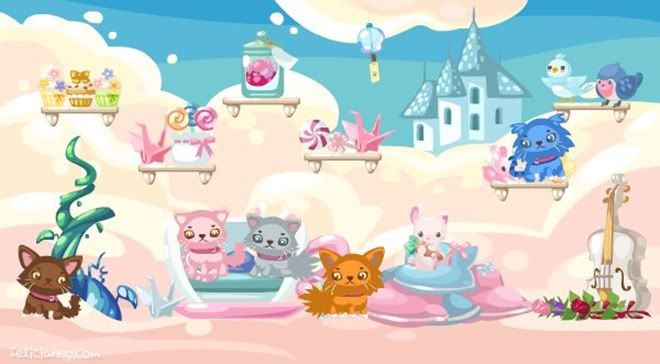 Last secret room. My fave! Love the cloud garden background! Furry cats prancing around. (They're gone now though, cos I've not fed them for so long)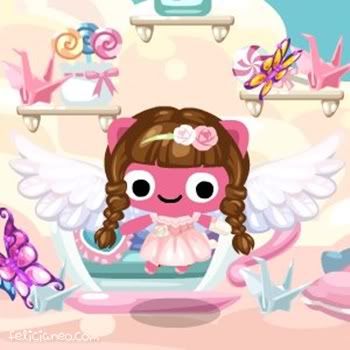 Fairy outfit with beautiful white wings.
Haha. The problem about such games is that I get bored of the game once I've finished decorating the houses. Just like Sims. (I've not tried playing Sims 3 though.)
Here's pics of my old rooms which I've revamped from. Just some of my faves!

Mermaid castle!

Romantic theme. Roses lying all around.

Guess what!!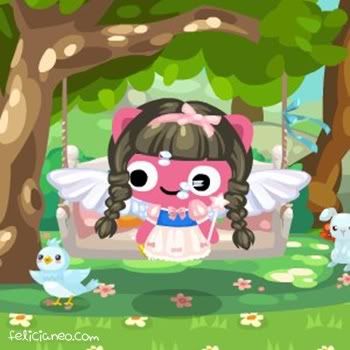 Hahah supposed to be Snow White and 7 Dwarfs! See the little birdie! (And wishing well!)
Totally no time to revamp any rooms for now… But ahhh I'm so sick of having to keep up with new items launched. (They launch new items every week!) And you'll need to go house to house and visit friends to earn coins too! Troublesome!! :/
Hahaha. This post is a drastic change from my usual real life pictures post! I hope I didn't bore you out with virtual graphics!!
A proper update soon!! I'm really packed this week but I'll try to do up a few posts. So rusty at blogging already. :/ Meanwhile, give me some time to get back to your formspring comments/emails! I've quite a few emails which I left hanging…
Related Posts: