Over the Rainbow.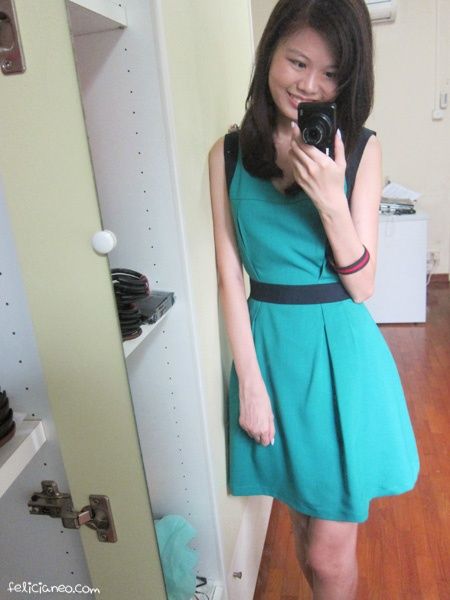 OTD
TVD Swing with Flair Pintucked Dress in Sea Green
My OTD for my Coca date with Char!!! One day after my last exam paper and we finally headed to Coca after craving for it since the Cineleisure contest days! Anyway, even though we didn't win the contest.. I felt that we've put in our very best effort already and I guess that's enough? Because sometimes hard work doesn't pay after all isn't it. But it's okay! Because I've gained so much from this contest. More life skills, as well as got to hang out more with Char! (: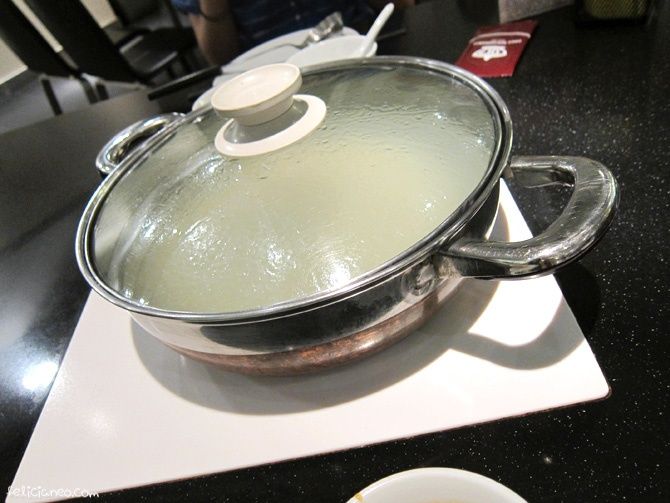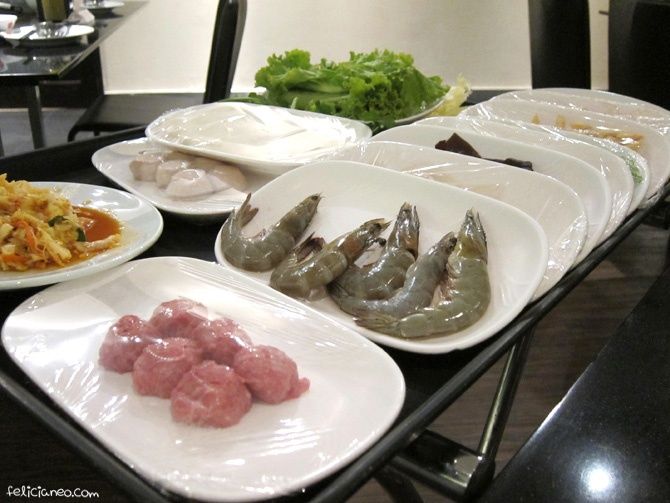 Cozy corner at Taka at one of the top floors.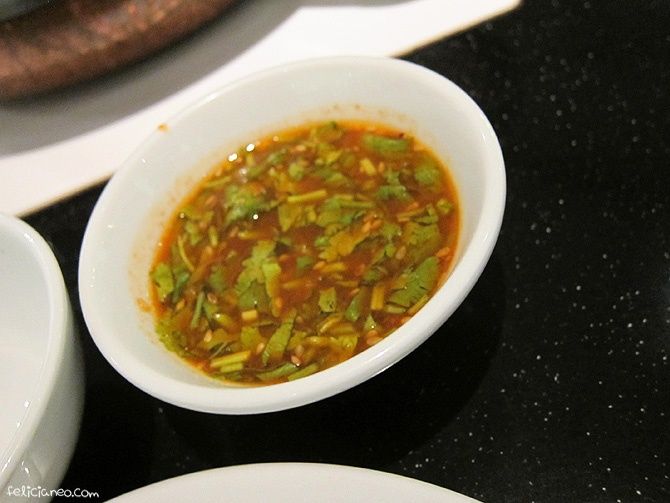 Chilli that's supposedly really good!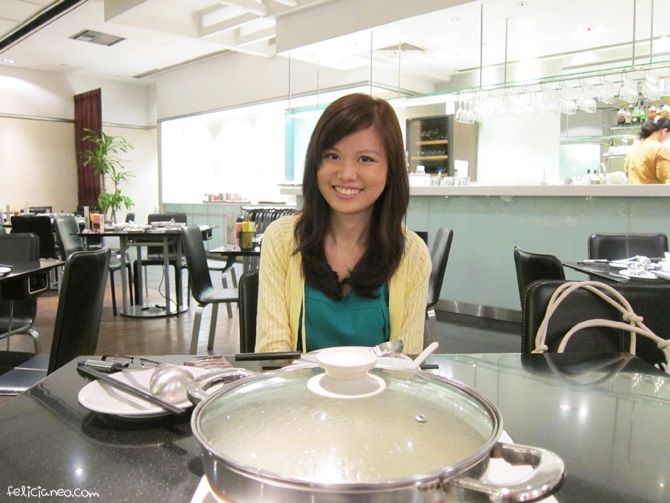 Lunch buffet menu. Anyway, they had student meal for lunch buffet! Only $17++! (Normally it's 20+ for adults during weekday lunch)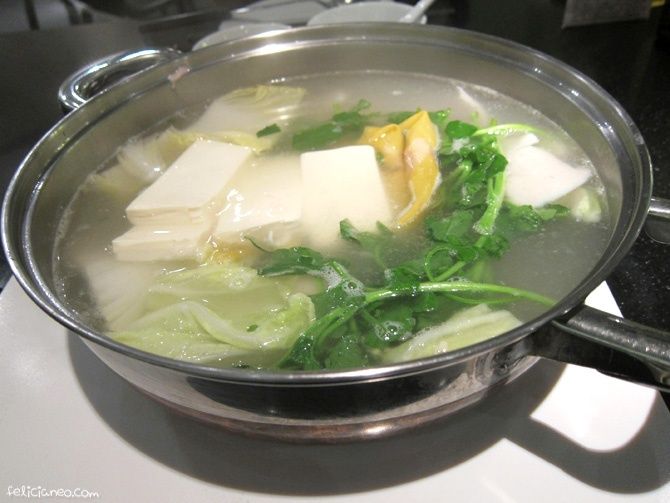 Not much photos cos we were busy eating and talking. Steamboats are such a luxury during cold stormy weathers. Anyway, Coca's standards seem to have dropped already.. No longer as tasty as few years ago when my parents brought me there. ):
Went down to shop after that!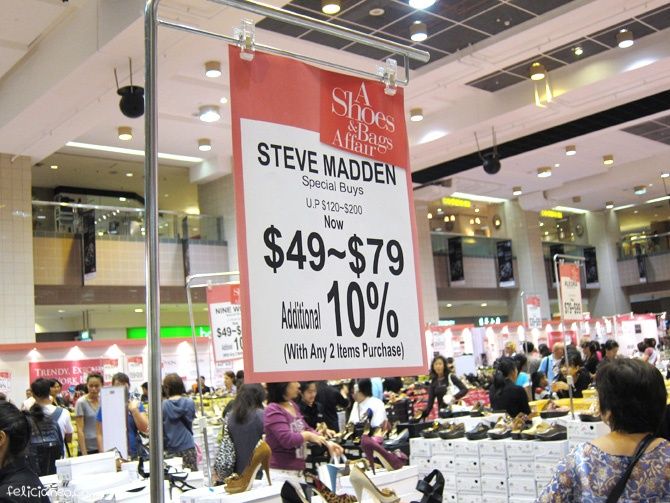 Bag and shoe fair at Taka atrium! Till 13th May I think! Shoes going at a fraction of their original price!!
Nothing that caught my eye for the shoes though..
Lots of bags too! (But nothing much catered to our age group.)
Char was saying that this bag is cute..
And when she saw the price.. Okay not so cute anymore hahaha.
But this brand carries quite nice leather bags! ($400+ after discount though. Gold bar inside? :O :O)
I like the pink one! With the tied scarf!!!

Sea Salt Caramel and Green Tea!! This was the same exact combi Char ordered like… 4 years back. I remember her raving to me about the Sea Salt Caramel and I took a bite and was like: Okayyyy…… Very unique taste. HAHAHA.
And Watsons is one place we ALWAYS go to when we go out. And she'll tell me this and that is good, and I'll try my best to not get tempted to get stuffs hahaha.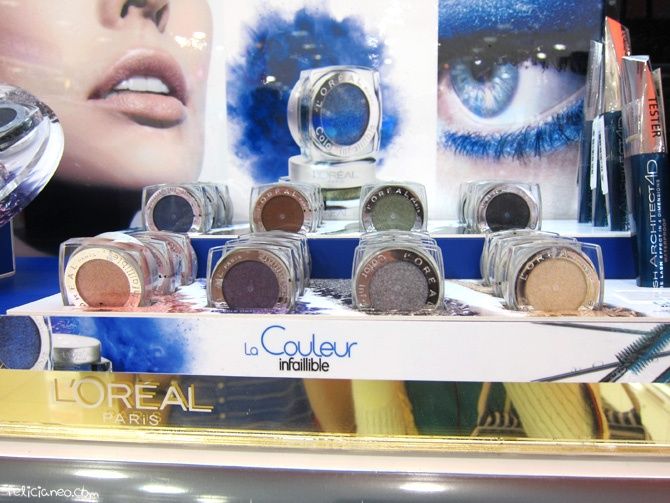 Loreal's new La Couleur Infallible eyeshadows!! Looks good! Apparently their formulation lies between powder and cream, so they shouldn't crease when applied on the eyes. I read that the only drawback about this is that it might stain your skin if you don't use it over a primer or cream colour base though!! How true is that?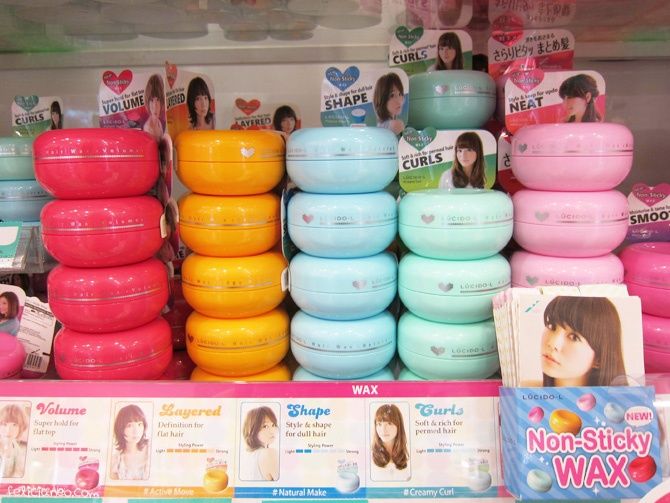 So pretty!! If I'm rich enough I'll really buy one of each colour and display them at home.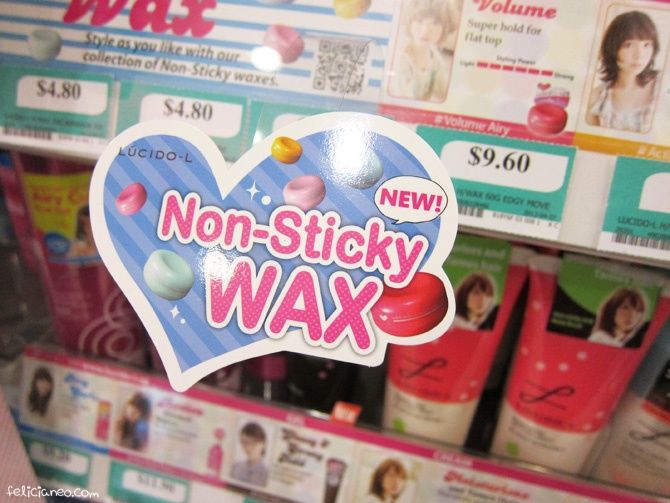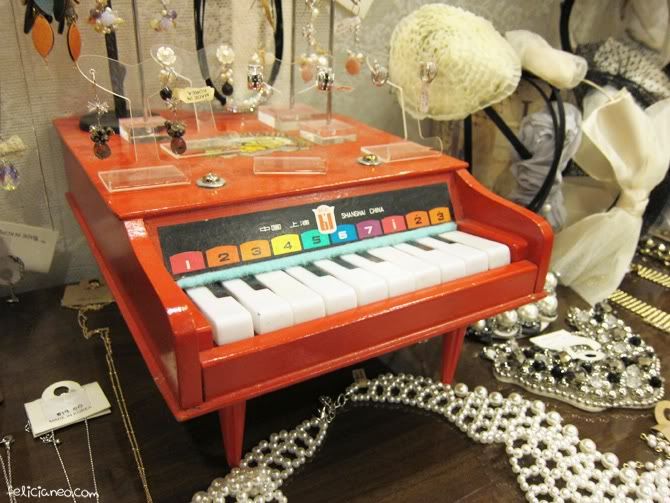 Cute miniature piano in one of the clothing shops!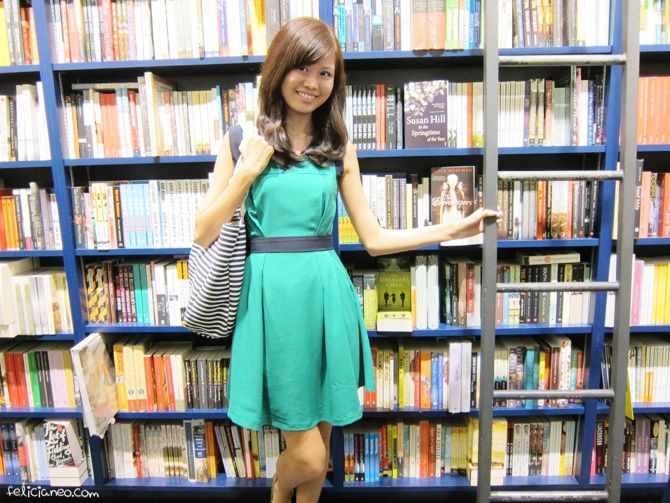 More pics of my outfit! Material's really good and cutting's good too!! Aiyaa basically I love all flare dresses. Love the contrasting green/navy blue colours too! Green and blue goes really well!
My new bag I finally brought out! Love big bags cos I can throw all my barang barang in. So spacious and nice.
Anyway, we took a train down to Suntec City cos Char said there's a Smoochiezz flea there! And when we were on the train, she realised that there was a flea at Far East Plaza as well (where we came from). And we had that … look for like 10s. HAHA.
China Glaze going at $8 each.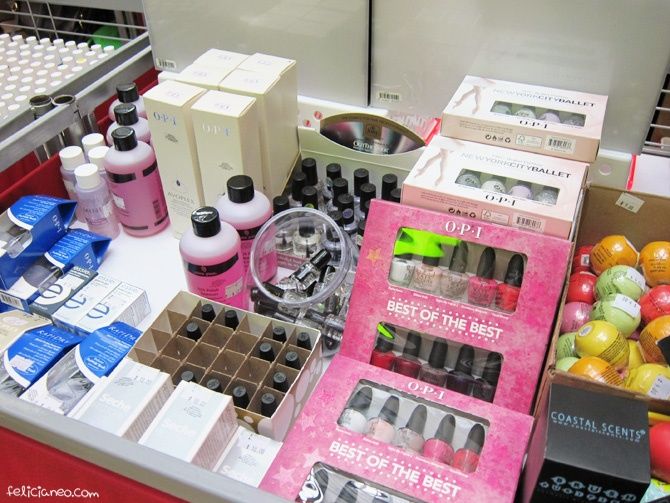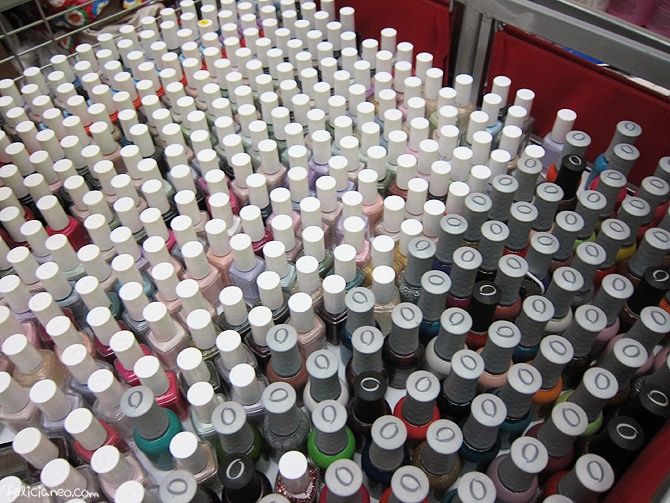 Essie polishes! $8 each too.
I got 1 Essie bottle + 1 top coat and 1 base coat from OPI cos mine was running out! So proud of myself cos I resisted all temptations.
Pretty E.L.F Smokey eye set packaged like a book.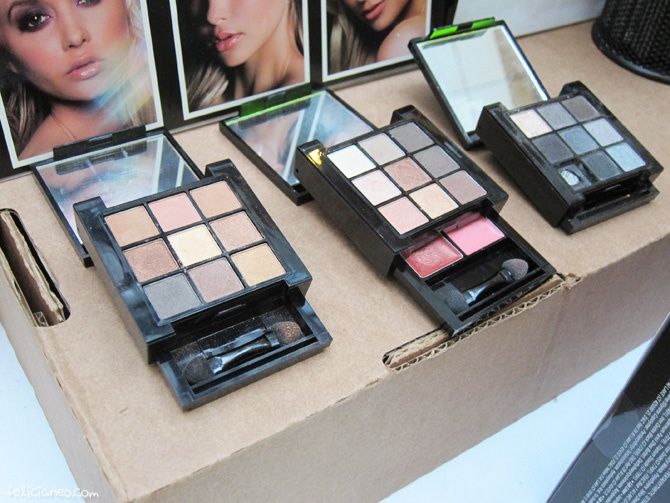 NYX eyeshadow sets!! Going to get this someday. $15 each only and I heard it's quite good! Small enough and good to carry around on holidays, etc.!
But anyway, if you want to get nail polishes, no need to go down to the flea! Cos Timtam00 is having 20% off her polishes on her site and her original price for China Glaze polishes is already $9 before discount! So after discount it's only $7.20? Just remember to quote 'felicianeo' in your email header when you're making your purchases to get the 20% discount off your purchases! (:
Ending off with 2 more pics!!
Anyone realised that I cut my hair shorter? Much lighter now! Will blog about it another time!
Heyyy! I think there's a book up there that I wanna get! *pretends to climb ladder*
I used to really like going to Kinokuniya back in Secondary School… Till I realised that it's a waste of money to buy comic books. No idea how much I spent buying those books, but think I sunk at least $200 there?! Sighhhh.. Now I think seeing  $200 worth of $2 notes in my cupboard would make me happier. Or maybe 200 $1 coins.
Bottom-line… Think HARD before you spend any money next time!! But I guess it's girls' nature to be impulsive in buying stuffs. :/ :/ And it's usually worse if you put 2 girls together on a shopping trip.
Me: Should I get this??
Char: YES!!
(5mins after buying)
Me: Oh shit. Why the hell did I spend $31 on a bloody comb?! OMG Char all your fault why did you want to go Watsons?!
(15mins later)
Char: Should I get the Shampoo??
Me: (without thinking) YES! Cos you made me spend so much just now.
That's why you need guys to tag along for some control if you want to keep your bank account fat. (:
Related Posts: