Natural Look with Maybelline
I don't like to pile my face with tons of powder/makeup and end up looking like a ghost. I once saw a woman on the train whose face was ladled with SO MUCH makeup that she looked really horrible. Reminded me of the scary dolls in horror show. It was really bad I nearly screamed when I saw her cos it was really late at night. However, it's almost impossible to go out without makeup and still look fresh and awake. The main problem about my face is that it has pretty bad marks left by acne outbreaks and it looks really bad. I personally think that skin condition really makes or breaks first impressions, and a flawless face is much coveted for. Also, with a flawless face your skin will look healthier and more radiant. So the key is to strike a good balance when you're putting on makeup. I personally like natural looking makeup that's good enough to cover my acne scars as well as to give a healthy natural glow to my face.
Decided to try out the new Maybelline produdcts I've received from my goodie bag from the Maybelline Event! I don't have much Maybelline products actually but I've heard raves about their BB Cream and of course Mascara. Lipsticks too actually.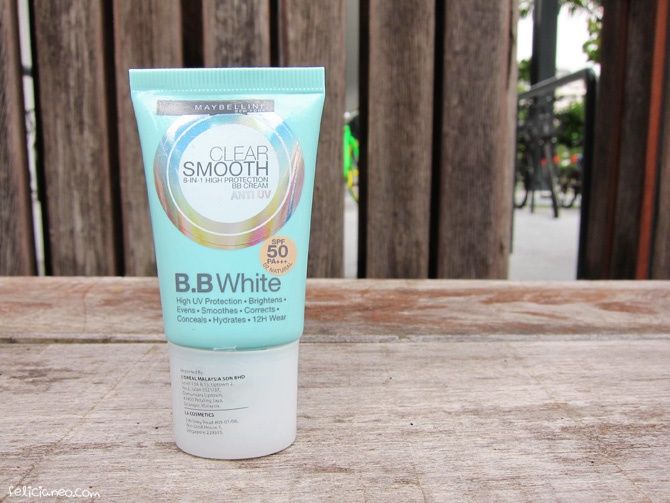 Maybelline's Clear Smooth BB UV White.
Comes with the following properties:
- High UV Protection (SPF 50)
- Evens skin tone
- Visibly lightens skin tone
- Smooths pores
- Corrects the appearance of dark spots
- More hydrated skin
- Conceals imperfections
- All day coverage, long lasting
This range of Maybelline's BB Cream is actually catered to those who love going out under the sun as it contains higher sun protection and brightening properties. Maybelline also has other BB Cream ranges so you might want to check them out in stores to see which suits you the best!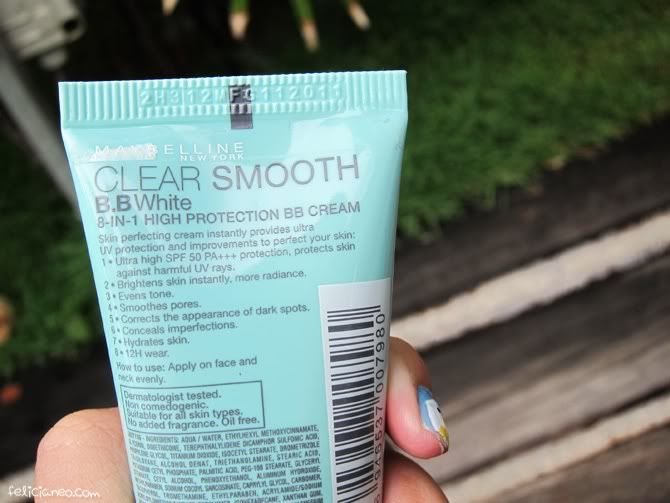 I would say this BB Cream provides only light coverage. Or maybe because my acne scars are too dark to be covered well enough. But anyway, I still used K-Palette's Cover Up Concealer after applying the BB Cream to achieve the degree of coverage I wanted. This BB Cream gives a very natural finishing and is very lightweight. Best of all, I like the idea that my face is protected even though I'm going under the hot sun.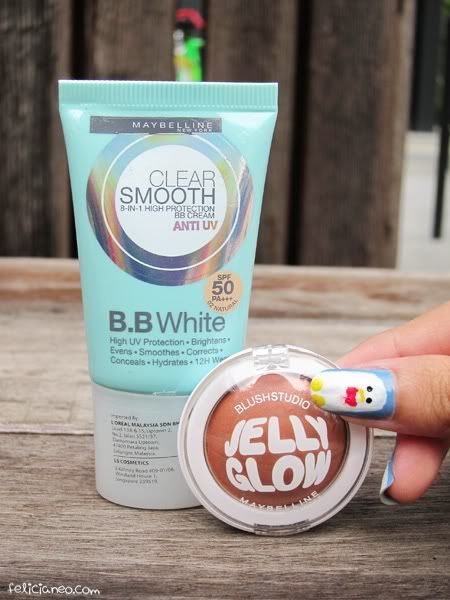 Tried out the Jelly Glow Blush as well! (07 shade)
I've the blush in 03 (lighter rosy pinkish shade) and this, but I chose the darker one that is closer to the shade of brown to give a more natural look. I find that applying such colours will give a natural looking sunshine glow to your face.
You've got to touch the texture of this thing. Very interesting texture. It's a texture that can't be fully described in words! Anyway, this is my first time trying a cream blusher like this and it's not as difficult to apply as I thought it'd be. (Usually I use a normal blush with a brush)

Well-pigmented and colours show up easily on the face just after a swipes. Always apply lesser and gradually add on. You can always add more if you feel that the blush's not enough, but it'll be really troublesome if find that you dabbed too much after applying!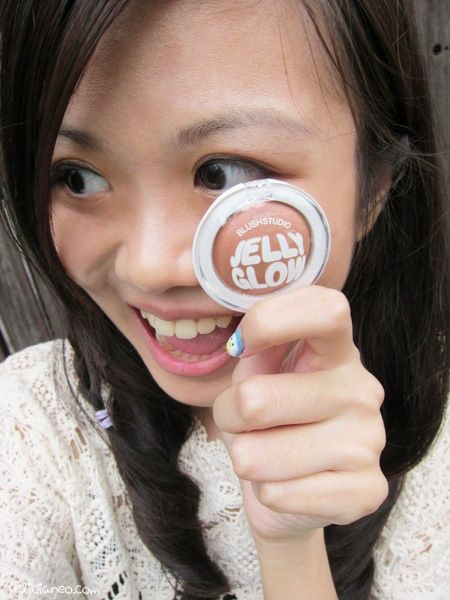 Small and compact enough to bring along with you for touch-ups.
I've K-Palette's 24hr Lasting Eyeliner Pencil in Black on btw! Didn't apply too much cos I didn't want my eyes to look too intense.
See how I look like I've rather good skin yet look like I don't have much makeup on here. I love whoever invented makeup to save poor souls like me. But of course, I try not to put makeup unnecessarily cos I wanted my skin to rest. (I only put depending on the occasion actually, most of the time no.)
Go natural with Maybelline. (:
—
Btw, DamselinDisDress has launched a new collection just last week with many many pretty items!!
Did a causal shoot with them a few weeks back and here's just 2 sneaks!
Cruising in Spring Skater Dress!!
And their manufactured Signature Stretch Zipper Skinny Pants that makes your legs look so slim and endless.
Link for the Skinny Pants: http://www.didd.co/bottoms/10/product/didd-signature-stretch-zipper-skinny-pants/45
You can use the discount code 'fellovesdidd' to enjoy 10% off your total bill during checkout of your item. (Please let me know if the code is not working for you okay!)
For first hand updates of launches/sneaks, 'like' their FB Page!! (:
Related Posts: