Lights, Camera, Action: My Baby-G Style Photoshoot
Here to blog about the Baby-G Photoshoot I had awhile back!
I'm one of the 10 finalists for the Baby-G 'My Baby-G Style' contest and we're currently on a blogging campaign with our new watches!

WIW to the shoot:
TVD Faux Tux Top in Green
TVD (upcoming) Pleated Paperbag Skirt in Pink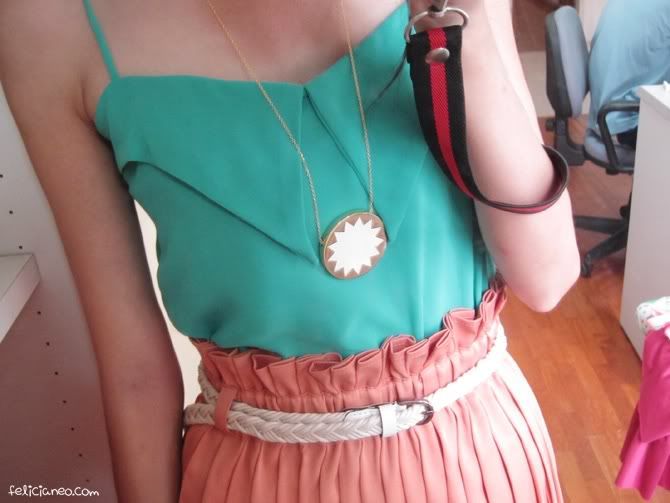 Paired with Xxandspoon manufactured Snow White Necklace!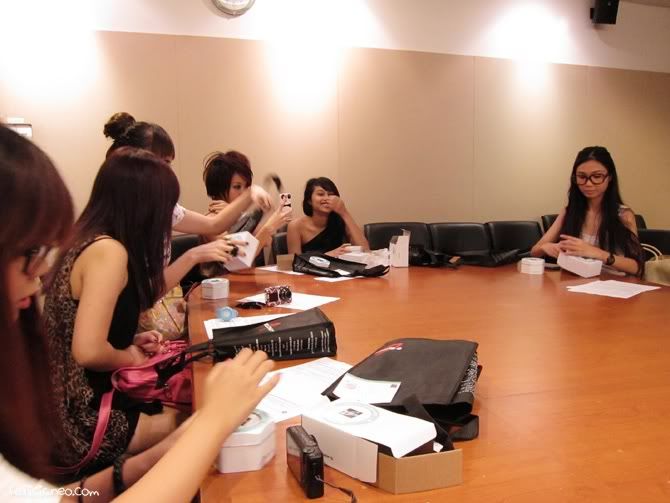 All 10 bloggers gathered at SPH for a briefing before the photoshoot and were issued our Baby-Gs!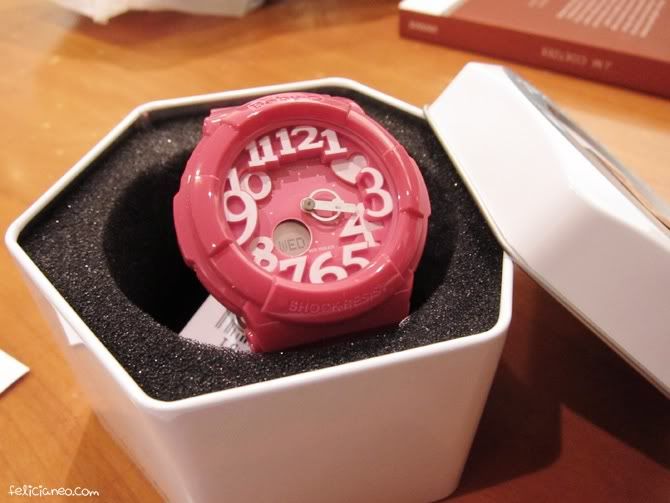 Here's mine!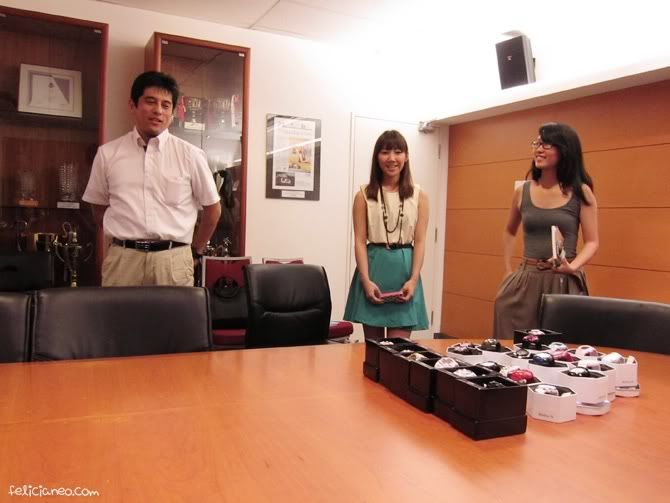 The people from Casio gave us a brief introduction to the brand.
I'm sure Baby-G is not an unfamiliar brand to most of us. (It was so cool to be wearing a Baby-G back in Pri School I remember!!) This range is specially created with style in mind and is of course catered to girls. (Because girls prefer something more colourful/are more design orientated.) Hence, Baby-Gs are very good fashion accessories and can match really well with our outfits! Basically all Baby-Gs are equipped with shock resistant and water resistant properties. (The same as G-Shocks!)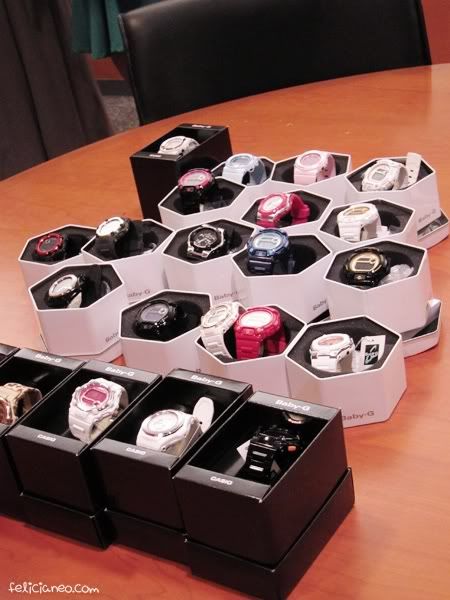 Huge array of watches for us to use afterwards at the shoot.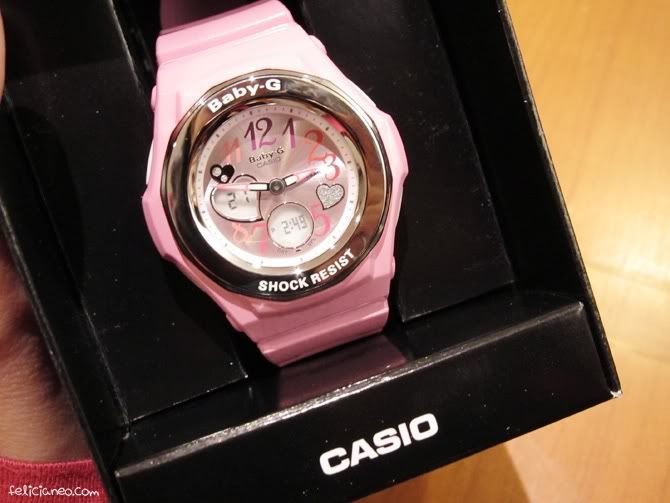 This is another model which caught my eye! Look at the colourful dial and bling bling heart shape! (Comes in white too!)
Feedback form regarding the different models. All our feedback will be sent back to Japan and taken into consideration when designing new batches okay!!
Photoshoot time!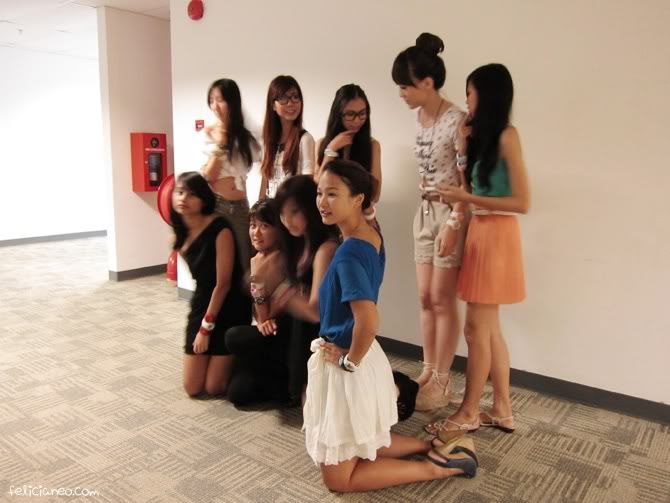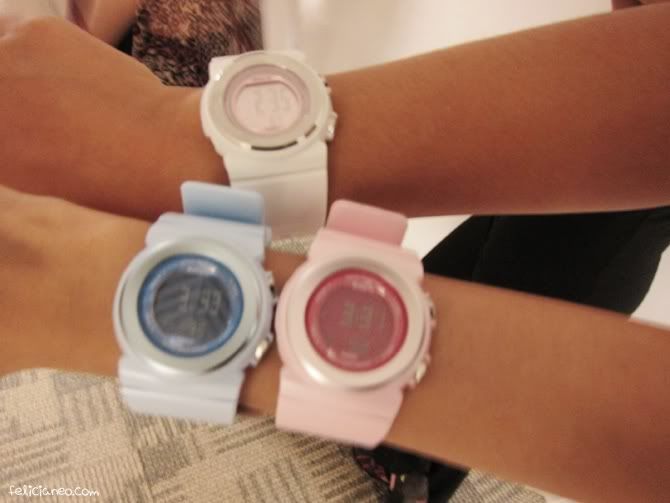 Joanne and I had matching models on! (In 3 different colours.)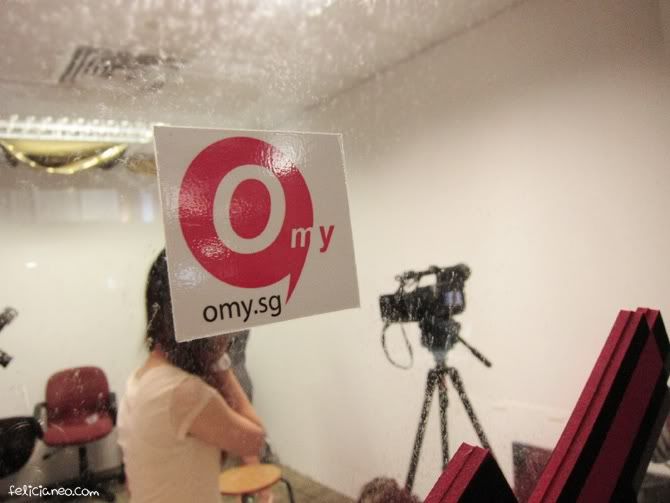 Our small cozy room for shooting individual/small group shots.
The best part about blogging events? You get to make new friends!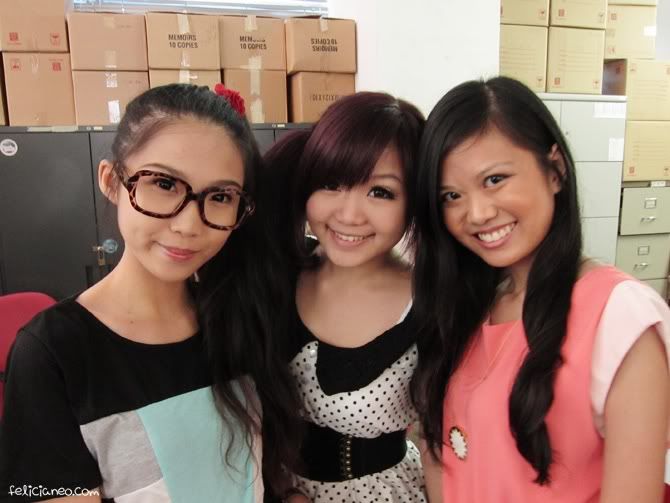 They're both 4 years younger than me leh! Can tell or not!! /act yi ge young.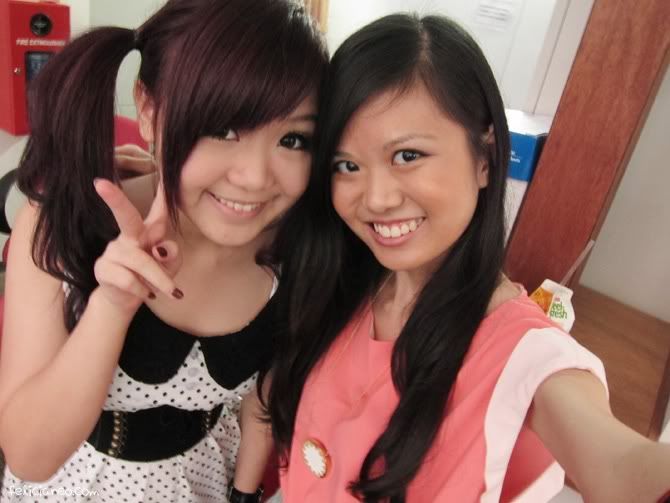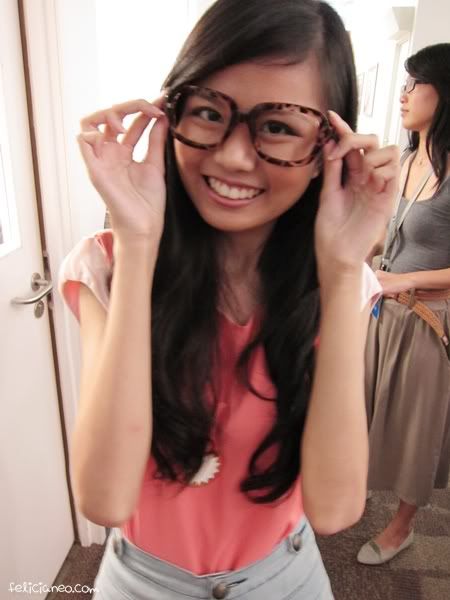 Playing around with Jessica's spects! So don't suit me.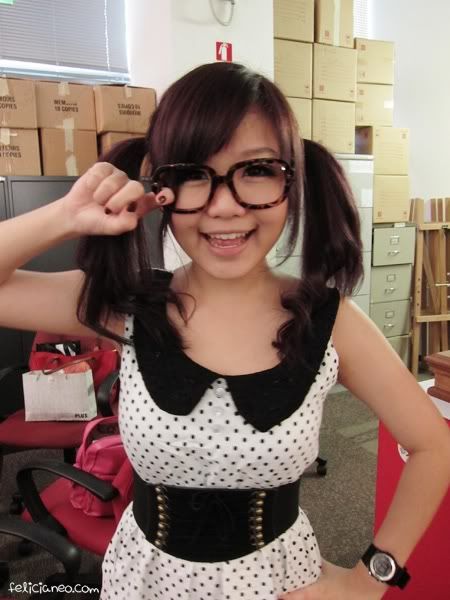 Why this girl so kawaii one!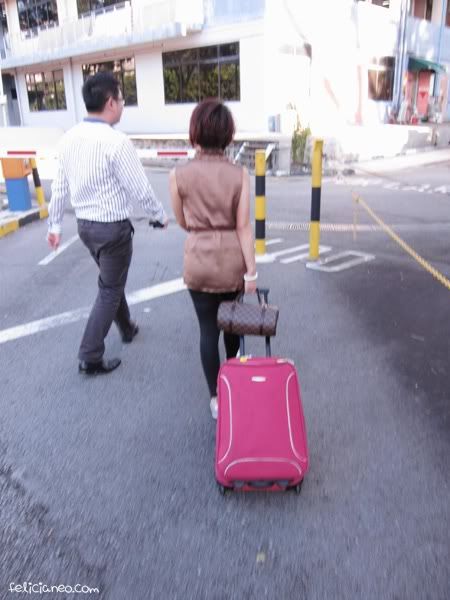 Oh, Valyn's from Penang btw, AND SHE CAME ALL THE WAY HERE JUST FOR THE BRIEFING AND SHOOT :O :O Ultimate blogger loh she.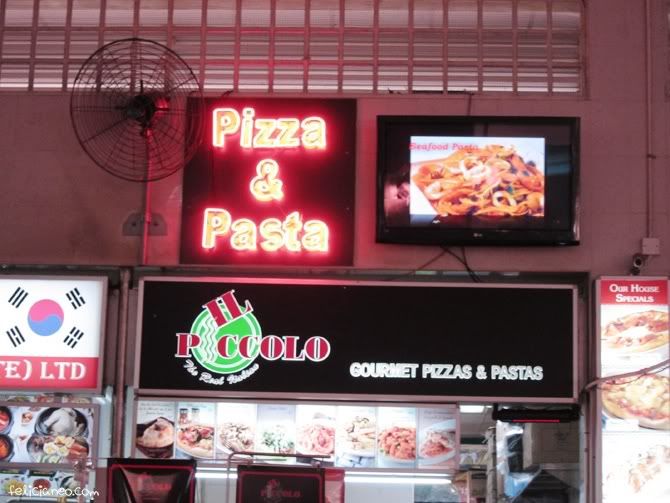 A few of us went for dinner nearby together after that!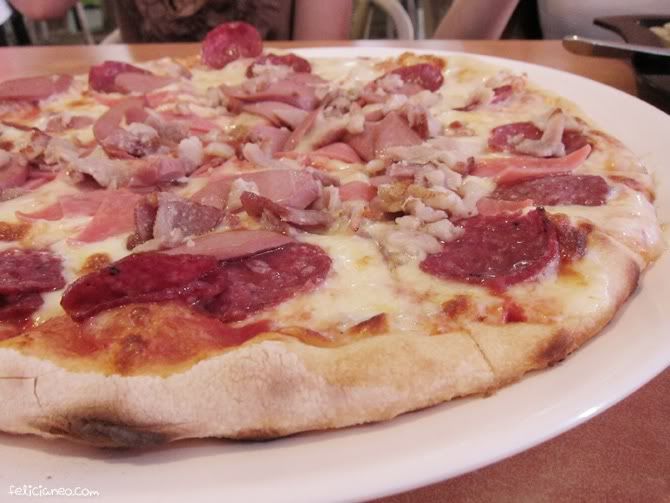 Humongous pizza that Kiyomi and I shared. There were like 8 huge slices.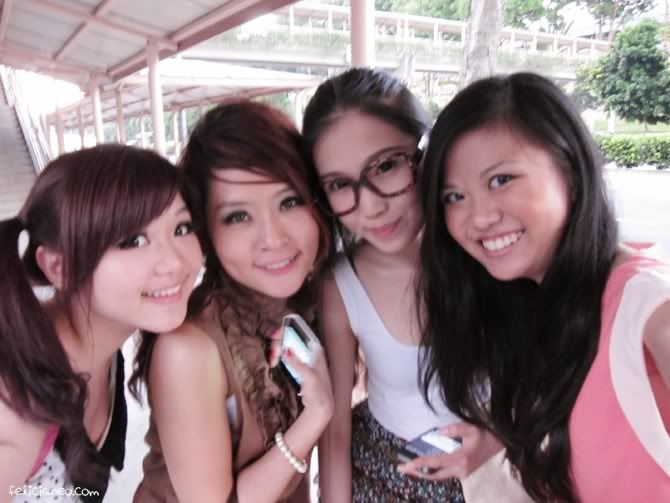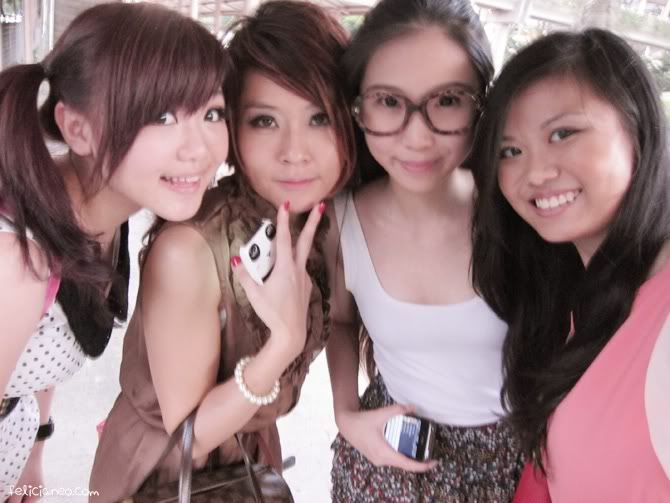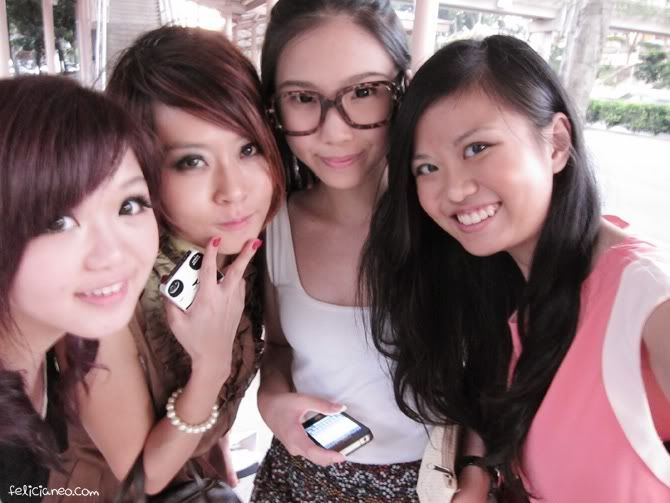 A few pics from the shoot that day. All photos credited to OMY!

Group shots! It was REALLY hard to coordinate 10 people okay.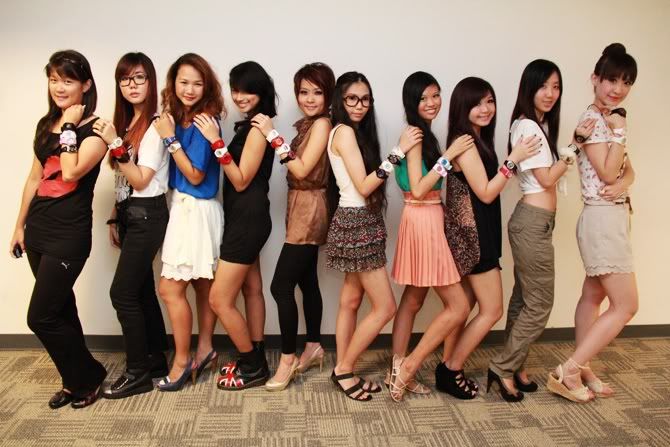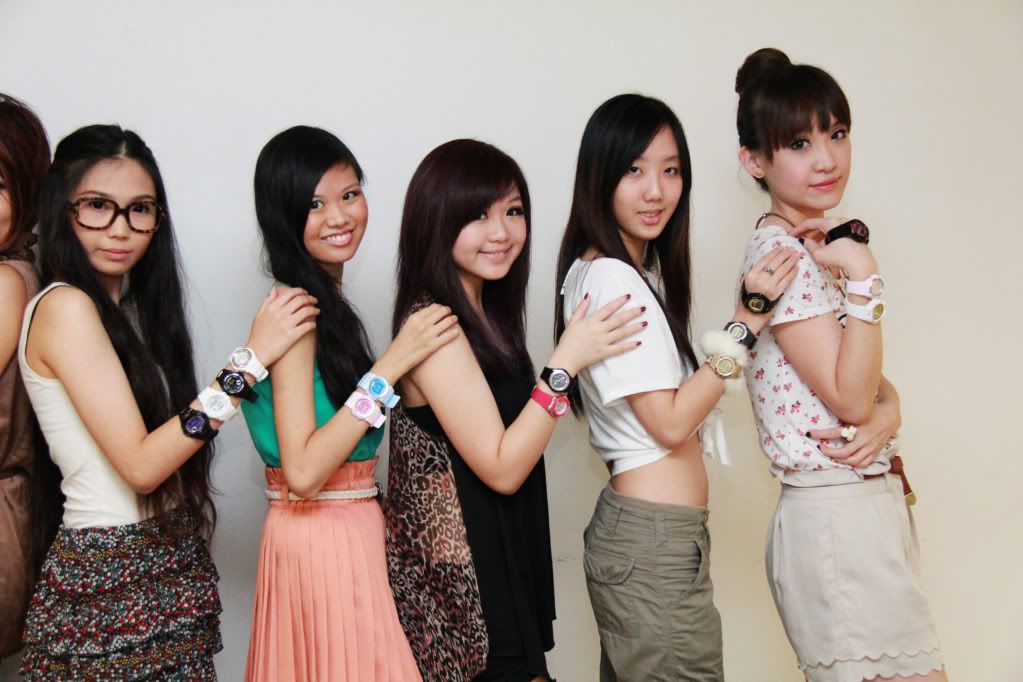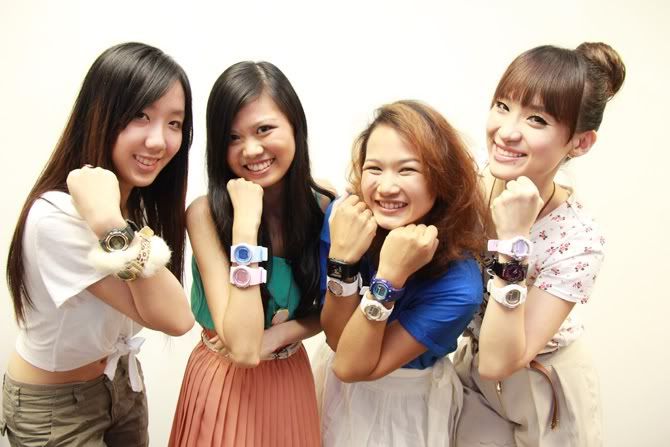 We were then split into smaller groups for more shots. Ying Zi, Sheron, Joanne and I were the colourful group so we were lumped together. I think the colour combination turned out pretty good!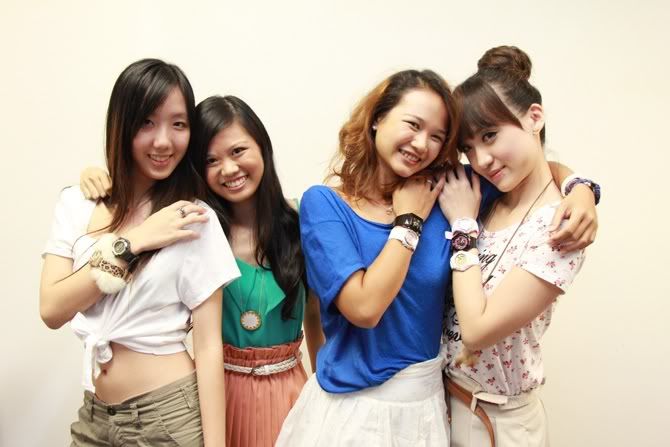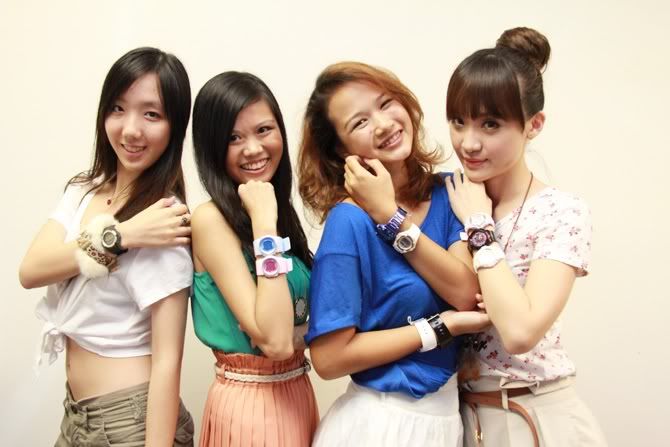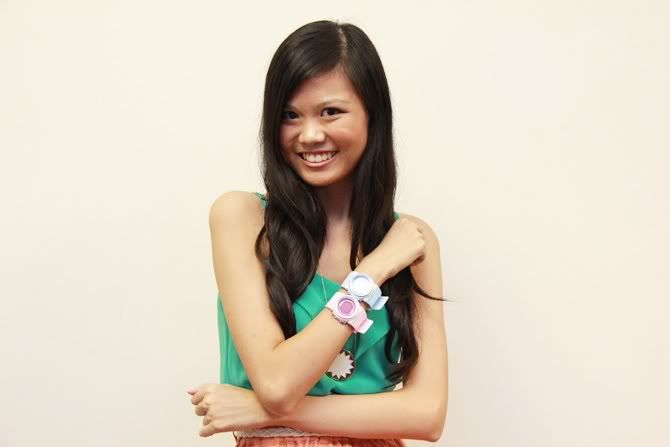 My individual shots. Changed into a second outfit after that.
Anyway, Casio's currently having a 'What's your G Factor' Facebook Contest where there are 2 watches to be won! (Limited Edition G-Shock and Limited-Edition Baby-G!) I think the G-Shock design is super funky (and VERY hot selling, now sold out everywhere already!), so you can try your luck in winning it!
Check out their FB for more details here: http://www.facebook.com/CasioTimepieceSingapore
(Must 'like' the page first and click under the Tabs section.)
Ending off: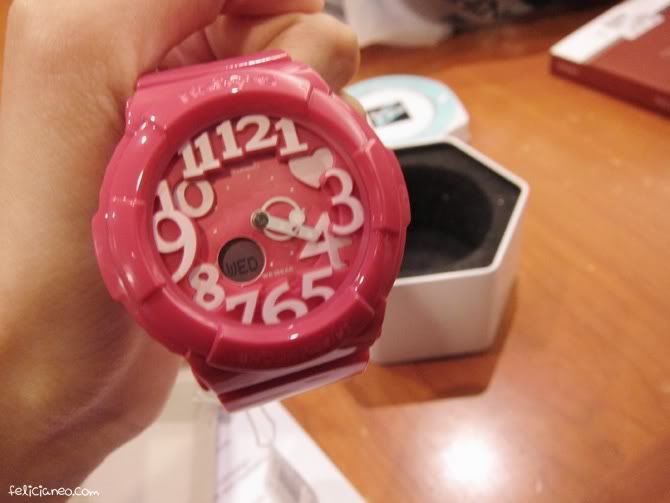 My pretty new Baby-G which I heart to bits and pieces! Will review on it soonish! Stay tune! (:
Meanwhile, you might want to check out the official campaign site for more information! (:
http://blog.omy.sg/baby-g
—-
Questions/Comments please direct them to my formspring:
http://www.formspring.me/felicianeo! (:
Related Posts: