Importance of facial treatments!
Everyone should incorporate facial treatments as part of their skincare routines. Having experienced my skin with and without facial treatments, I can definitely feel the benefits of facials. And it's very important to find somewhere that is professional and has good beauticians. So far Mel and I already had 4-5 facial treatments with New York Skin Solutions and our skin has showed great improvements!
So why should you get facials done regularly? Our face is constantly exposed to dirt and dust outside and it's important to get our pores cleansed. Pimples arise because our pores are clogged which leads to the growth of bacteria that causes pimples. So clearing your pores regularly would ensure lesser breakouts!
During my facial session with New York Skin solutions, my beautician uses steam to safely open up the pores to get ready for the extraction step. This also allows the pores to breathe. My most dreaded part of facials is the extraction which is really a torture. But at New York Skin Solutions, a softening mask is put before that so that extraction would be easier and faster too.
And one super important point to note: If you don't know how to correctly pop your zit, leave it to the professionals!! Ever since I started my facials here, I make it a point never to squeeze pimples myself because I would end up doing more damage to my skin. I also constantly remind Mel not to squeeze his zits cos he'd scratch his face and cause a deep wound which leads to acne scarring which is even harder to repair. The people at New York Skin Solutions are well trained and they're really fast and precise at popping zits and extracting blackheads!
After the extraction, a collagen treatment will be done on my face which is so cooling and shiok! Collagen helps my skin to naturally repair itself so it's good to pump up more levels of this especially as we age. After this step my skin is always glowing!!
Lastly, a soft and hard mask will be placed and sometimes I get so relaxed that I really dozed off. I see facials as a good way for me to just relax, get away from my phone for awhile and to just really pamper myself.
Taken right after my facial session.. Feeling my face all nice and cleansed!!
Here at New York Skin Solutions, you'll be able to get detailed scans on your skin condition and you can see what's going on underneath.. Something that you'll never be able to do with your naked eye. Going for facials allow an expert to help you identify skin conditions, and educate you on how to treat them. Like how I'd never know that I'm using the wrong skincare products if I never visited them!! Same for Mel because after eliminating all the wrong facial products, his skin is now less oily. And I encourage all guys to go for facials too!! They're not only meant for ladies! Both of us not incorporate facials as part of our dates haha.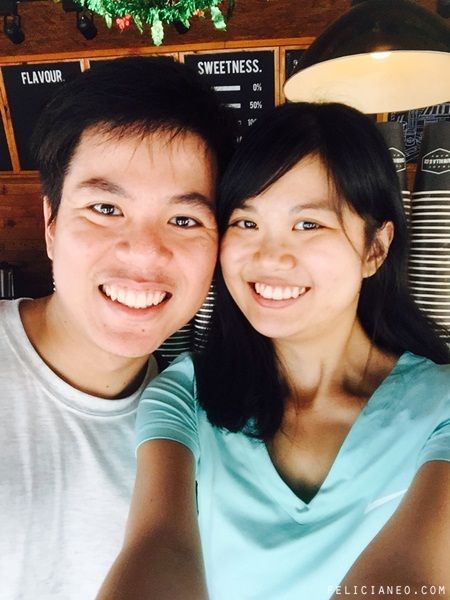 Just for my readers, you can also try out New York Skin Solutions yourself! New York Skin Solutions is giving away 1 FREE HYDROCOLLAGEN TREATMENT (Worth $300)! All you have to do is use this link to fill in a very short form stating your particulars + preferred appointment time: http://goo.gl/SOl4sm
(*Note that promotion is only for first-time customers!)
Also, hop over to New York Skin Solutions's website here for more information:
http://newyorkskinsolutions.com.sg
Related Posts: