HELLO 2011!
My first post of the year!!
As a new year approaches, first thought that always come to mind is: time really flies!

So this year I decided against getting a new planner because I thought of what happened to my old one..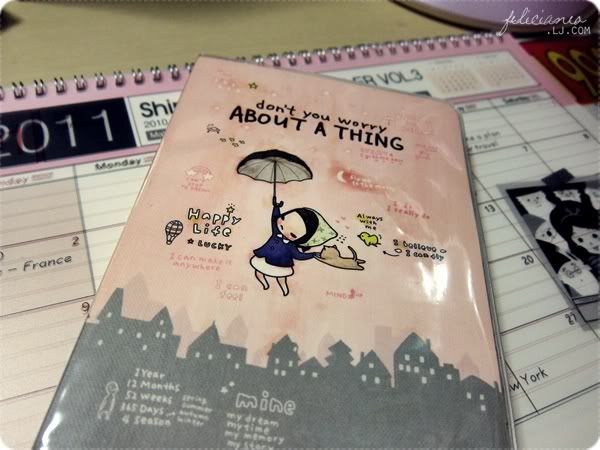 My old planner from cottoncandyfriends!

And till now the state of the book is still like this.
I did use it for a few weeks but too bad that my life isn't so happening so it's mostly blank. ):
So this year, I decided to get a Monthly Scheduler Planner instead!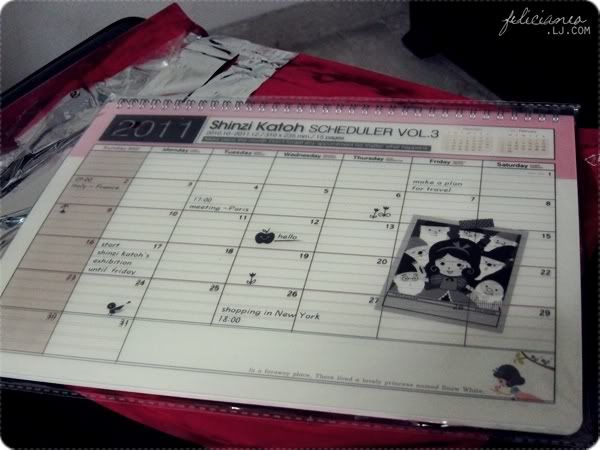 Ordered one from Gmarket and this one flew all the way over from Korea because the seller's based there!!
Had 4 different themes to choose from. I chose Snow White because it's the cutest with all the 7 little dwarfs! I think they have Little Red Riding Hood too!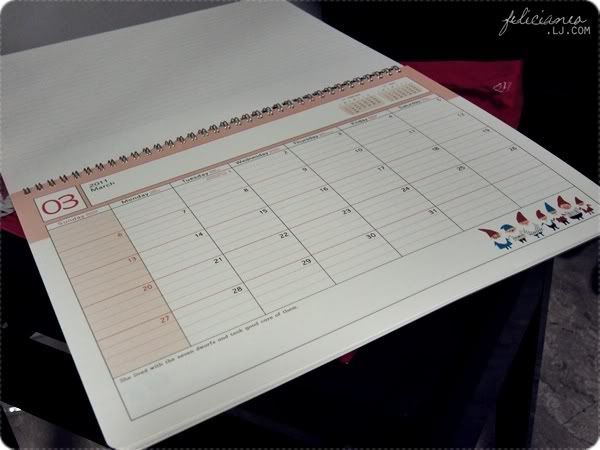 It actually looks like a giant calendar. Perfect for you to scribble events you have that day and so convenient because you can just glance a whole month's worth of activities without having to flip the pages here and there (if using a weekly planner). Best of all the space available is just nice. Unlike calenders which has too little space, and weekly planners with too much space.

So since this is a Snow White themed design, they even have like the a sentence of the story written at the bottom of each month. (But not really the full story of the fairy tale)
This small blank space at the bottom of the main page is where you can write stuffs like the birthdays in that month, anything important details of that month, etc!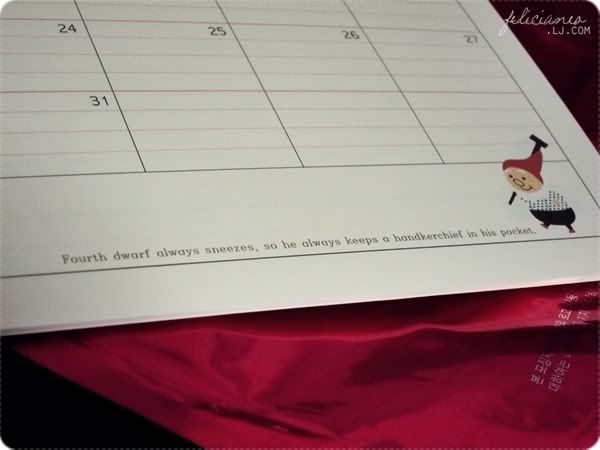 I'm always wary of getting Korean products with English words because somehow they always have weird phrasings that doesn't make sense. But for this scheduler, it seems fine to me! Hahaha.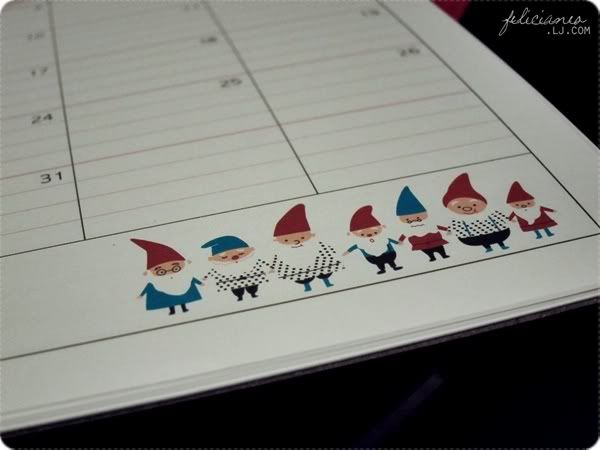 The 7 dwarfs! Can you spot Grumpy? Is the 3rd from the right with the zig zaggy smile hahaha.
The back page of every month is blank with horizontal lines. I actually like writing small notes or quotes or maybe even exam timetable in my planners so this is a perfect space to do so. A much larger space than that small blank space at the front.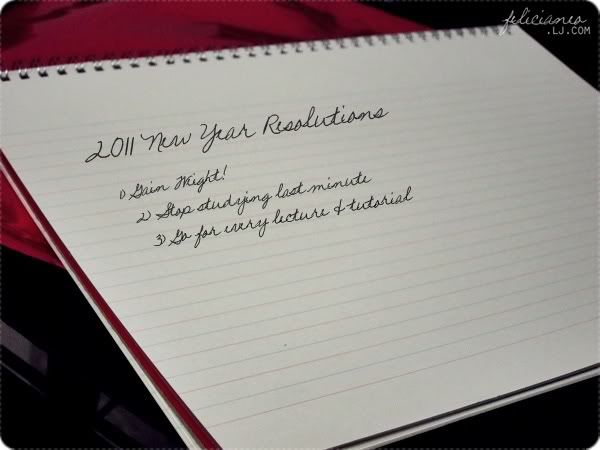 Here's a sample I did up of how you can use the space. Since Jan is the beginning of the year, New Year Resolutions would be great to fill up the space!!

Lastly, the scheduler comes with this red cupboard like thingy. Okay any idiot will know that this is actually sort of a stand for the scheduler.
It may seem nothing special at first, BUT when you fold it to make it into a stand…

Birdies pop-out!!! So suitable for Snow White theme right!!!
I wonder what the Red Riding Hood one would be like… If you happen to get that please let me know!!
I'm not going to use the stand though cos you have to stick the scheduler on it and I find it hard to write on the scheduler with uneven surface!!

So yep this is how it looks like when standing up. They actually show you a sample of how can design your scheduler at the front.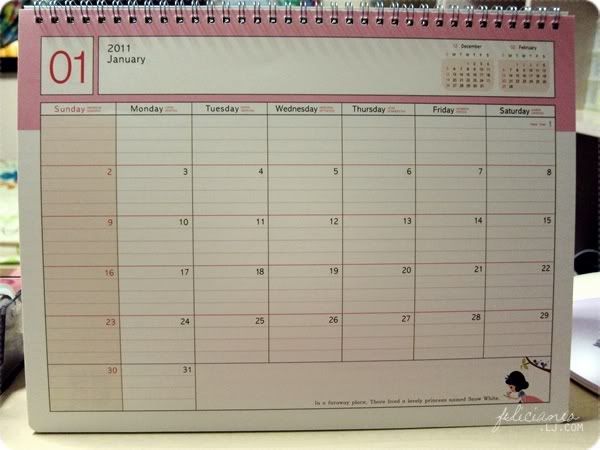 A brand new start to the year!!!
Every blank boxes shows you how the future is still unwritten and you can choose to make a difference to your life!!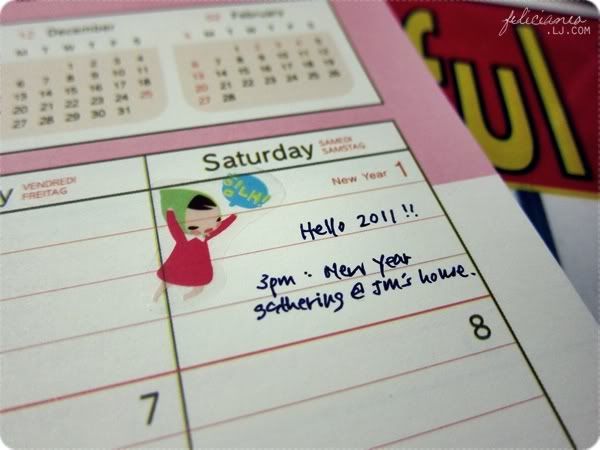 I've started filling up my scheduler with confirmed plans for the month but it's still in progress and I'm waiting for my cute stickers to arrive so I can decorate it, so here's a small peek of what I've done up so far! Will post up pictures when I'm done with the whole month!
—-
My New Year's Eve and New Year's Day had been a fruitful one.
Had a small gathering with my first 3 months (JC) OG friends and we went to the super tiny and Bedok Point. New shopping mall at Bedok and I never knew about it!!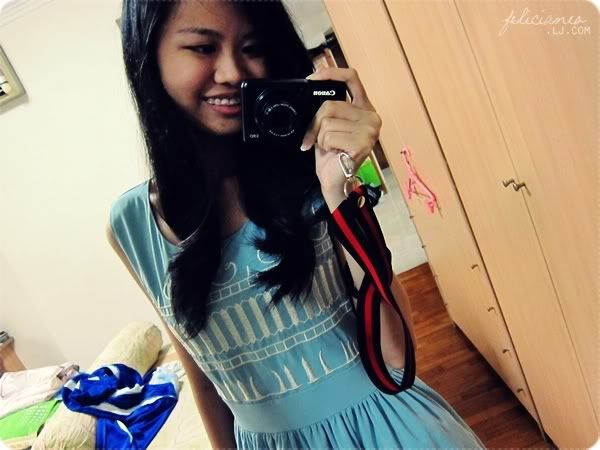 WIW: TVD Warehouse Inspired Embroidery Dress in Aqua.
I have this habit of wearing dresses I like everytime, even though I've alot of unworn clothes in the cupboard. So you'll probably see me wearing the same things again and again in the pics LOL.
I tried curling my hair with the curler my aunt passed me and it was quite a failure. Plus it made my (already) frizzy and dried hair even dryer. ): Time for a haircut and treatment soon! Still deciding if I should just go perm my hair. Opinions?
Was a good gathering with the gang and we stayed out till 12am plus! Didn't go for countdown though, we just went White Sand's Macs and chilled and talked there.
Just 2 pics of that day because the guys didn't really like to take pics.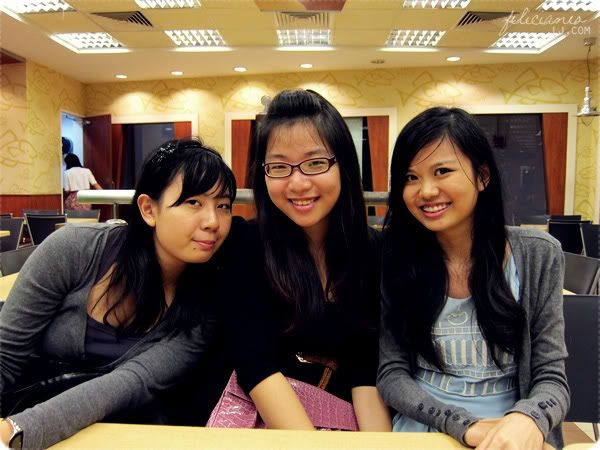 Such a wonder that we stayed so close even though we went different classes/schools after first 3 months of JC!! (Some were just friends we hanged out with for 3 days of Orientation but still kept in contact!)
And New Year's Day yesterday was spent at JM's house! Played Monopoly Deal for the first time and it's quite addictive!! And Polar Bear with her Church friends were super fun too. Love gatherings like these.
Alrighty. Shall end here. I feel so productive haha.
Toodles!!
Related Posts: