Event: Facial Re-contouring @ Privé Clinic!
Attended an event at Privé Clinic with Fawn two Saturdays ago! I was really interested to find out more about aesthetics procedures such as fillers and botox because they're getting really popular nowadays! (I'm really afraid of pain though!!)
Thankyou Nuffnang and Privé for this session!! (:
Privé Clinic is known to be one of the outstanding medical clinics in Singapore that delivers excellent service for your skin, face and body in terms of laser technology, dermal fillers,  slimming and age management programs with high satisfaction rate among our clients.
Waiting for the event to start!
Two lucky audiences will be chosen for live demo! And Fawn was hoping she would be chosen so she can fix her nose lolol.
We started off with a talk on facial re-countouring and the idea of a perfect face shape!
The Marquardt Beauty Mask is created by Dr. Stephen Marquard and is the definition of a perfect face shape and here we see how the mask is applied to different people.
An ideal face shape is that of a heart-shaped face: V-shape Chin, Slim jawline and full, youthful cheeks.
We were also given a quick introduction to Botulinum Toxin and Fillers.
Botulinum Toxin is also commonly known as Botox, Dysport or Xeomin and is used to slim down parts by relaxing the contraction of muscles. Temporary fillers incorporate the use of Calcium hydroxyapatite and Hyaluronic acid and adds volume to areas thats need it.

We also witnessed live demonstrations of the procedure! Valerie was the first model of the day, and procedure done by Dr Karen Soh. Dr Karen Soh graduated as a Raffles Top Scholar before going on to obtain a Bachelor of Medicine from National University of Singapore in 1997. Only in her 30s, she has had a wide spectrum of training in surgery, intensive care, obstetrics, gynaecology, ophthalmology and anesthesia.
Just a tip: When doing such anesthetic procedures, it is really important to find a good and experienced doctor!! It's your face at stake!

Dr Soh telling us that Valerie's facial proportion is actually really good already and there's actually not much to correct. But she'll be doing cheek fillers for her so that her cheeks can have a higher lift.
*Warning: Please scroll quickly past the pictures if you've a phobia of needles!! Not alot of pics, but just a warning in case some people really can't take it!
Marking out the area to insert the filler.

The filler used that day is Radiesse filler which contains microspheres made of a natural material called Calcium Hydroxylapatite in a water based gel carrier. The results are long-lasting but Radiesse is not permanent (generally last for about a year depending on age, skin type, lifestyle and metabolism) and is biodegraded and metabolized by the body through natural processes. Hence it's safe to be injected into the body.
Valerie with one side of the cheek done. Fillers actually give a really immediate effect. Not sure if it's obvious in the photo but one side is actually higher than the other now! It'll also look more natural after a few days when the bruising has subsided. She also mentioned that she could see that her cheeks were higher in her vision now!
As mentioned earlier, two lucky attendees will be chosen to do a live demo and makeover! And omg Fawn was the first to get chosen!! Followed by Lianne.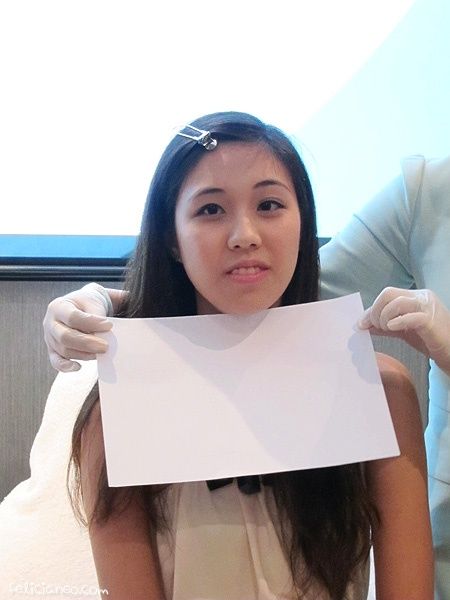 Lianne went first and Dr Soh mentioned that her chin is actually proportionate (left is bigger I think) She'll be doing slight cheeks fillers and chin fillers for her.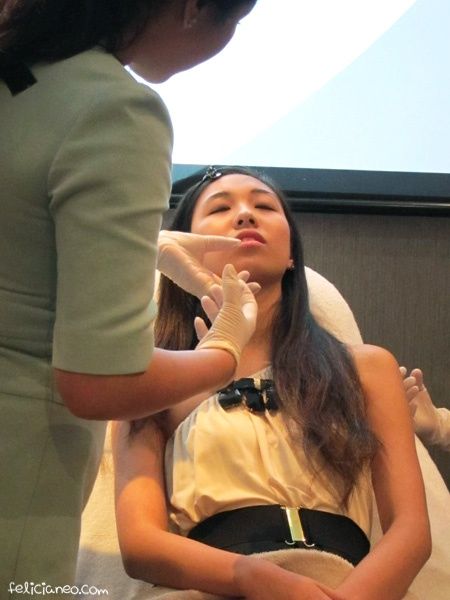 All done in just a short period of like 10-15mins!! Really quick! And Lianne mentioned that it was almost painless cos numbing cream was used.
Fawn with her numbing cream on haha! Doing nose and chin fillers! The process was really quick and painless as well.
With the other G+ Bloggers I met that day!
Fawn with her new nose and chin!!! So much more defined! Will need about two weeks before the fillers settle down and look perfect!
The two lucky and brave girls!
With Ziwei! (: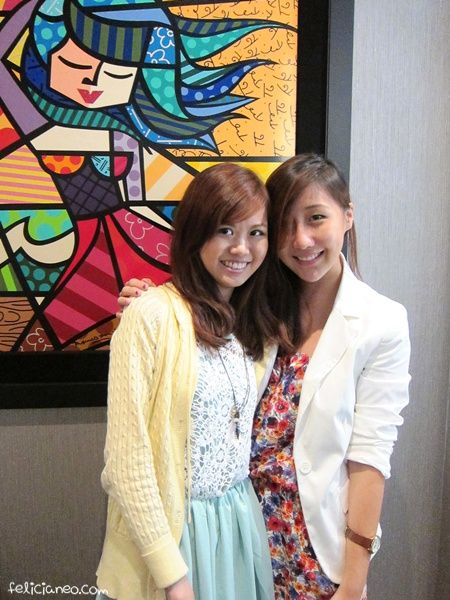 OMG you finally got what you wanted!! Please remember to treat me lunch lolol!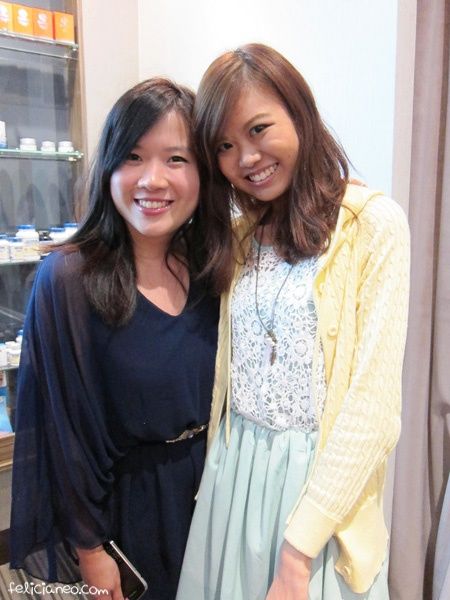 Pretty Jayne! Thanks for inviting! (:
The 'patients' plus doctors!
A photo with pretty Val! OMG I look like a dwarf beside her.
The session that day was really an eye-opening one. The procedures might seem a little scary when watching but according to the ones doing it, it was relatively painless!
Privé Clinic
One Raffles Place #05-04A
Singapore 048616

Here's my Outfit of the Day!
Lovepine.co Aqua Rose Floral Lace
A very sweet dress with the crochet details and pale aqua colour!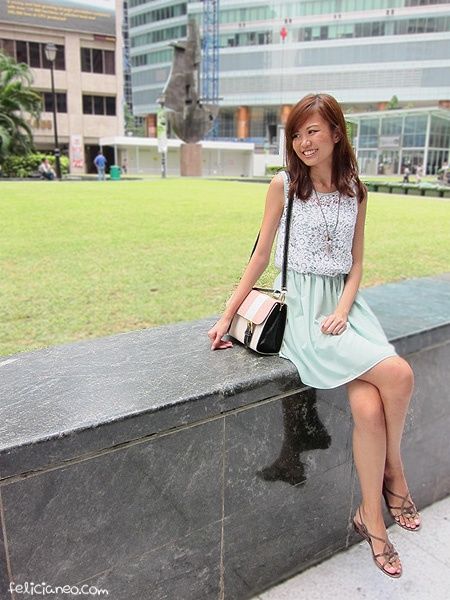 They've more lovely floral and lace dresses on the site!
View the entire collection: http://www.lovepine.co/#!apparels/cw10
Ending off with a photo of us! I'm so jealous and happy of your nice nose and chin now!! I want a sharper face and nose too!!!
Related Posts: