Christmas Gift Ideas I: K-Palette & Steamcream
Christmas is the season of giving. When I was a child, I used to love Christmas for the fact that my aunts would bring us out to choose our presents. And of course for many other reasons like Christmas = Snow, all things white. And I love the colour white! AND the Carols and decorations! Everything is perfect about Christmas. I mean, there MUST be a reason why Christmas decorations are hanged (about) 2 months in advance right. Much longer than any other seasons. If it's ugly, why would they want to hang it for so long.
Okay, enough blabbering. Remember the K-Palette review I did awhile back? They've launched their hot selling Real Lasting Eyeliner in a limited edition Christmas set in pretty pink design!
And I think this would be a very neat gift for any girl who loves makeup because firstly, I've been using the eyeliner for a few months now and no complaints about it. Secondly, it's so pink and girly and the packaging is nice enough to be presented on its own. This set is launched in limited quantities at Sasa stores.
Second gift idea – Steamcream:
All girls (and even guys) need a good moisturizer. As the name suggests, this cream is birthed from using high quality, natural and traceable raw ingredients bound by a steam-infused process.
Why Steam?
1) Energy produced by high pressure steam fuses the raw ingredients. No emulsifying chemicals used and is all natural.
2) Results in deeper-reaching and fast-absorbing moisturiser that is suitable for all skin types.
3) Breaks down immediately on contact with skin, allowing ingredients like Orange Flower Water, Cocoa Butter and pure essential oils to reach where they are needed most.
For those who're wondering, the cream is lightweight and easily absorbed into the skin with just 2-3 swipes, leaving the skin baby smooth. Smells really good as well! I like to use this moisturizer on my hand and body, but not really on the face cos Singapore is so humid and it'll cause my face to become sticky after awhile.
AND JUST LOOK AT THE PRETTY TIN! It's of very good quality and all tins are specially designed and in limited quantities! They have a name for every tin and it's written on them. After finishing up the cream, you can use the tin as decorations/store small items! I love everything pretty and I like collecting them haha.
So yep, this would definitely be another alternative gift idea which I think would be perfect gifts for your mum/relatives or even colleagues. The tin itself is SO pretty to present on its own, coupled with award-winning moisturizing cream.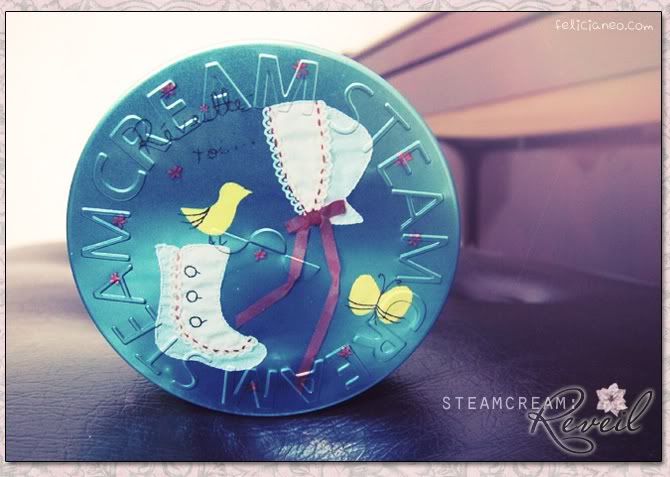 My tin: Reveil. Had a hard time deciding cos there a lot more which I love as well!

Along with many other designs for you to choose.
This Christmas promo is available over at all Steamcream counters at BHG outlets at Bugis, Tampines and Clementi, and it costs $25.90 for a tin.
Here's the full Christmas Catalog designs: https://www.facebook.com/media/set/?set=a.173788469374819.47114.120329014720765&type=3
They might not have the full catalog range over at the counters though, so alternatively you can order straight from Japalang (the official Steamcream distributor in Singapore) to ensure you get the design you want. Must be fast cos designs are in limited quantities! Details on how to order, as well as the order form is in the facebook link I gave earlier.
—
I hope you found this post useful! Because I love Christmas, I really wanted to do up Christmas related posts, and a Christmas Gift Ideas post couldn't be more apt.  Over these few weeks (YES, during my exams period! :/) I was contemplating on what items I should feature, and racking my brains for gift ideas.. Well, at least the stuffs that I feature appeal to me, so I hope they would be useful for those who are fretting over what to get for your friends/family. I had a hard time deciding how I should present it though. You know, like sort it according to price ranges or target groups (for family/girlfriends/boyfriends) and if I should lump everything in a post. But well, in the end I decided I should split up the items. I hope I can brainstorm something good about how to present the other items in a more interesting manner!
If you've any suggestions/comments/questions, you can direct them to my formspring!
http://www.formspring.me/felicianeo
Related Posts: