Bloggers' Event: STRIP Strawberry Brazilian Virgin Wax Experience
I've heard tons about Brazilian waxing, but I've never thought that I would try it myself in this lifetime because I'm terribly afraid of pain! When STRIP invited me to try out their new Strawberry Wax, I was a little apprehensive whether to accept the invitation but I went along with it in the end for the experience.
So here's my post and reviews about it! (No obscene pics don't worry!)
I was invited to their new outlet at Raffles City and the entrance of the place is actually situated from the outside of Raffles City Shopping Mall. (There's a taxi stand near there) It's just behind Guess so I suggest to try looking for Guess if you're going from inside the mall.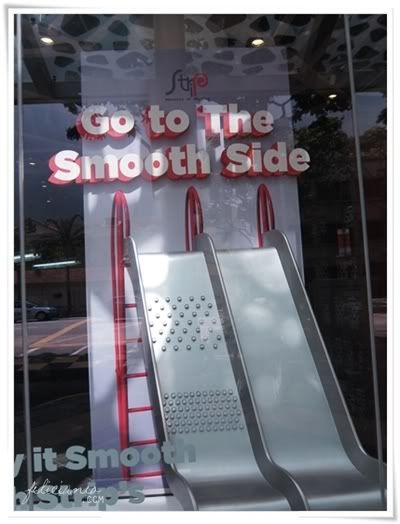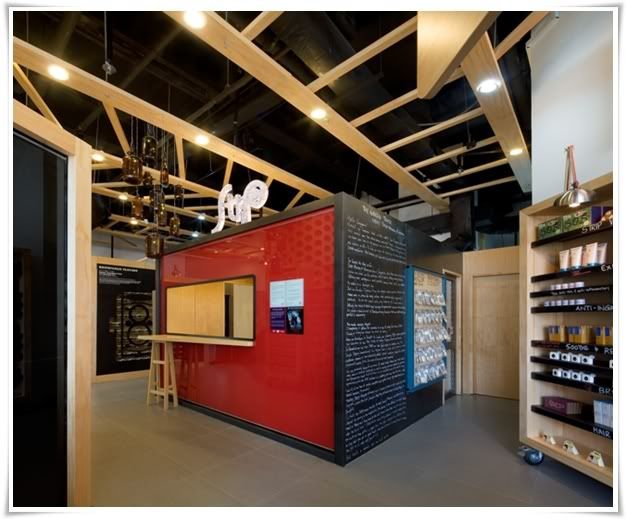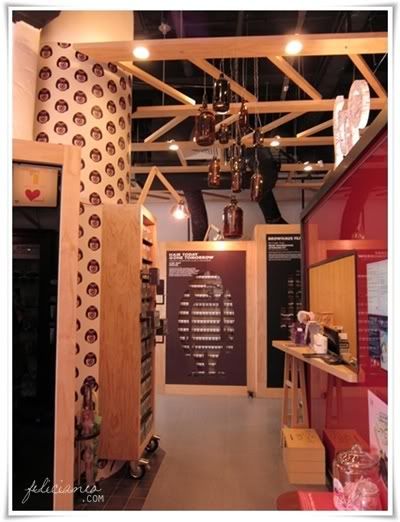 Here's a little background information about STRIP.
There's so many other waxing outlets out there, so why STRIP?
STRIP has been around since 2002, and has pruned and waxed a whooping amount of over 2 million bushes worldwide! (Number's not updated, so it's actually more!) They have branches in major cities like Singapore, London, Shanghai, New York, Hong Kong, etc. and is clearly a well established brand.
They've pioneered the HSQ Mantra which symbolises their devotion to the
Holy Trinity of Waxing: Hygiene, Speed and Quality, and with continuous trials and experiments, they've developed a brand new set of Brazilian waxing techniques that was significantly less painful and embarrassing. They are also famous for their menu of secret-recipe lotions that treat waxed areas with an unrivaled tenderness as well as amazing post-wax products.
So why wax instead of shave?
(Are you wondering why spend money on waxing when you can just shave yourself? If you are, read on. If not, skip this part!)
When hair is shaved, within a few days, the hair can be seen at the surface of the skin and coarse stubble can be felt. Shaving commonly results in ingrown hairs, bumps and ongoing skin irritation. When waxed, hair grows back slower, softer and without stubble. When appropriate post-waxing home care is followed, waxing leaves virtually no ingrown hairs, bumps or ongoing skin irritation. Waxing will, over time, make hair growth finer, and hair will become less in volume; but there will always be some re-growth.
(Information from http://www.smoothwaxing.com/faqs.htm)
—
Before the wax session, I was given a prep talk by a staff at STRIP's of their practices as well as a brief introduction to their new Strawberry Wax.
The HSQ Mantra:
Hygiene: All customers are given a Hygiene Pack – a new individually sealed pouch
containing disposable waxing equipment. (including gloves, face masks, pH balance wet wipes and spatulas.) There is also a "No Double Dipping" Commandment to ensure that each coat of wax used is fresh and hygienic.
Speed: STRIP has a team of nimble Waxperts and it's their policy to complete all wax procedure in a record breaking time of 15mins!
Quality: Only the best of the best waxes are used!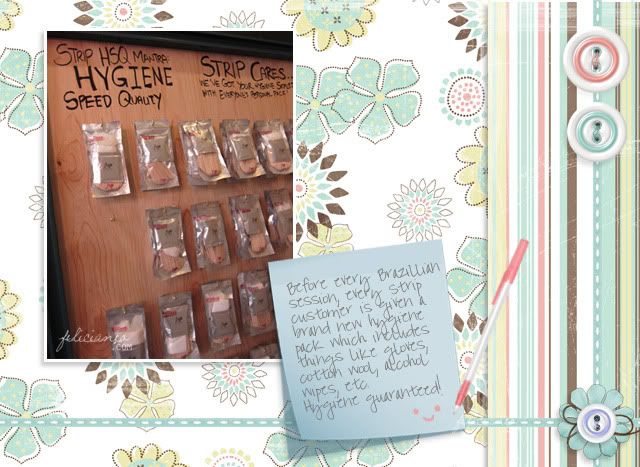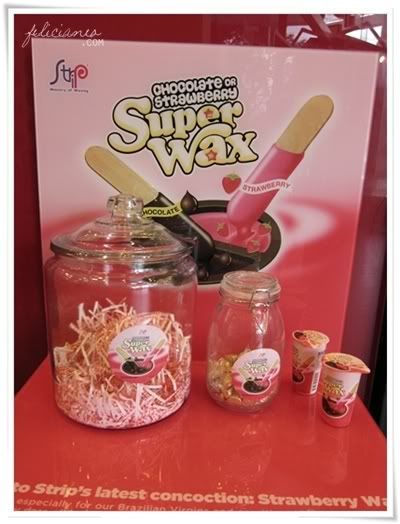 And now introducing STRIP's latest concotion: The  Strawberry Wax:
The new Strawberry Wax is specially formulated for virgin Brazilians and it's good for first-timers who cannot tolerate pain. It uses hard wax on all parts of the Brazilian area unlike the old technique when soft wax is used on certain parts. (Hard wax is less painful!) And also, the new Strawberry Wax packs in the healing powers of chamomile and aloe vera to calm and soothe even the most tender skin. A secret ingredient is also added that makes the wax soft and easy to apply. It spreads thinly onto the skin, making it dry quick and easily unlike traditional brittle wax.
Before the start of the session, 7 drops of Bach Flower essence is also dripped under the tongue to calm the nerves and every Brazilian virgin will be given a full consultation from the Waxpert.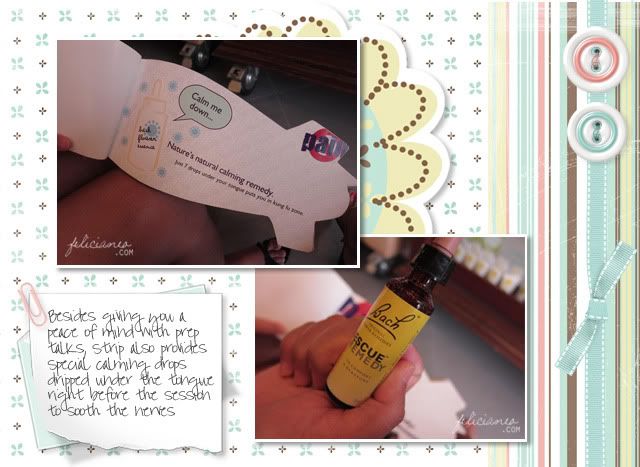 The waxing room is a small cosy place with mantras painted on the walls for you to read in case you need to distract yourself during the procedure.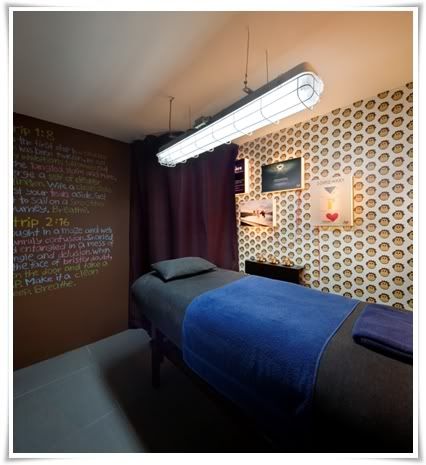 The process was really quick. Although it was a little embarrassing at the start, the Waxpert made me feel really at ease. And even though there was slight pain, it was amazingly bearable and short-lasting. (something like when you stick scotch tape on your hand and pull it out.) Pain, if any, only lasts about 1-3s, nothing too great that will make you shout or tear. (The Waxpert will press the hand against the area to sooth it)
And according to my Waxpert, the pain level varies for individuals and it's less painful if you've got fine hair. Char, who went for her wax before me that day said she didn't feel any tingle of pain at all. But ermm for first timers, I think it's normal to feel slight but tolerable discomfort. After the session, a peace Ampoule for soothing hair follicle and retarding hair growth was applied and I didn't feel any pain at all after that.
–
Aftercare is also important after a Brazilian wax.
Kudos to STRIP for designing a Brazilian Virgin Kit for easy after-wax care and maintenance.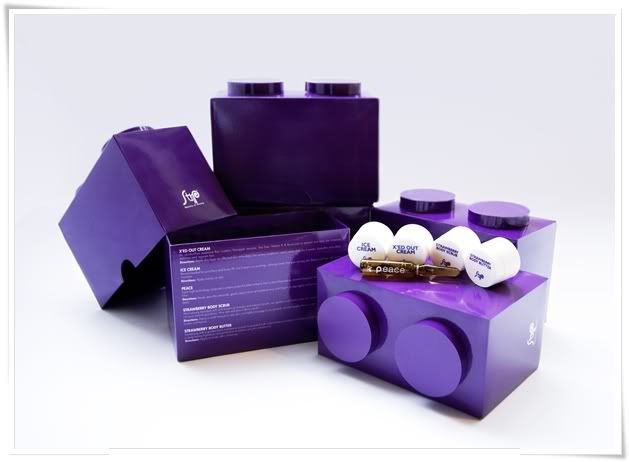 Each kit contains a trial-bottle of:
1) X'ed out cream for ingrown hair, 5ml
2) Ice Cream to soothe irritated skin, 5ml
3) Strawberry body scrub, 5ml
4) Strawberry moisturizing body butter, 5ml
5) 1 peace ampoule for soothing hair follicle and retarding hair growth. (That is used immediately after the session by the Waxpert)
The STRIP Strawberry Brazilian Virgin kit is priced at $25.
(But wait! There's a special promotion going on, read till the end of the post!)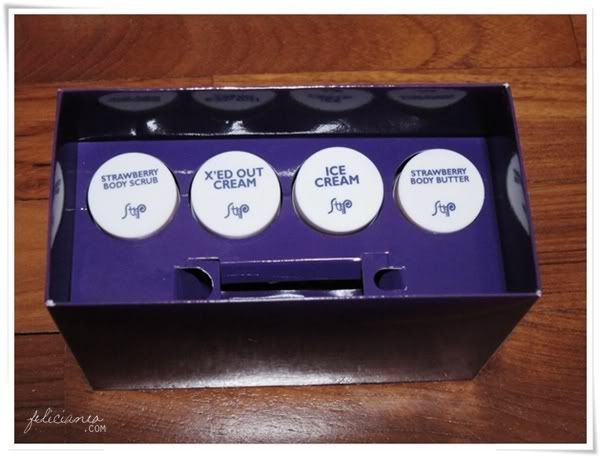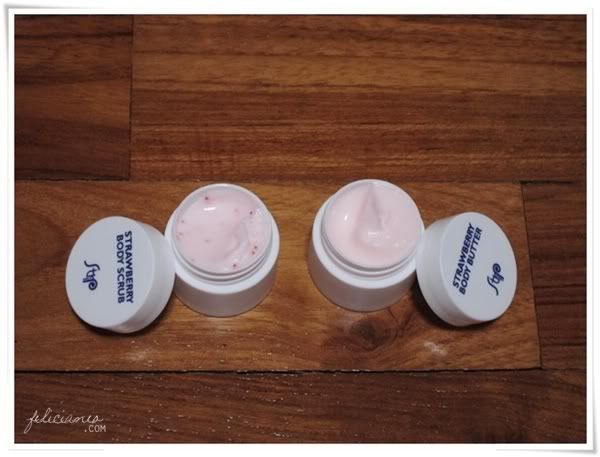 Smells of lovely strawberry!!
And here's some pics of the goodies I got in my pack:
So creative right! The wax does remind me of Yam Yam biscuit.
(And there's actually another Chocolate Wax technique at STRIP)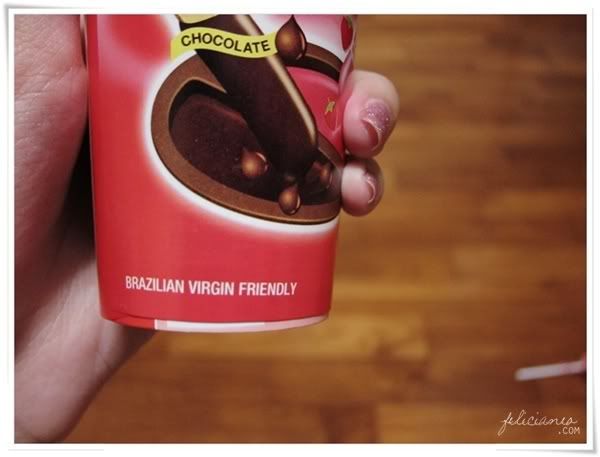 And for those who are interested in trying out Brazilian waxing…
Till 30 June 2011, STRIP is offering:
For STRIP Brazilian virgins, Strawberry Brazilian Virgin kit can be enjoyed at $15. (u.p. $25)
Strawberry Wax Virgin Brazilian AND a Strawberry Brazilian Virgin kit is just $56 (u.p. $83).
All prices are before GST!
STRIP Raffles City Shopping Centre (New)
#01-15
6333 5375
For other outlets at Ion, Paragon, etc etc., please visit their website at
http://www.strip.com.sg
—
Ending off: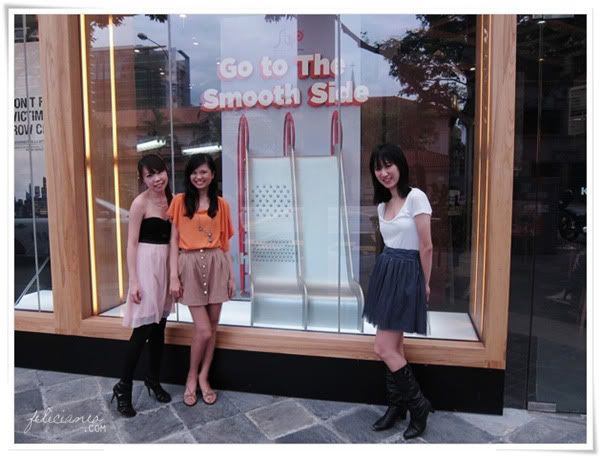 Charlene and Tiphanie were waiting for me after my session cos we were going to attend another event after that! (In the next few posts!) And we were all virgin Brazilians! (Not anymore!)
Come to The Smooth Side Today!
HAHAH.
& thank you STRIP, Michelle & Pearlin for the invite! (:
For any enquiries about STRIP's charges, do call them up directly to ask. And if you've any questions about the Brazilian wax process, etc., do leave a comment & I'll be happy to answer them. (:
Related Posts: