Behind-The-Scenes: Photography Product Shoot!
So here's the 'Behind-The-Scenes' post for the pictures in my Cotton Candy Friends blog post! (If you haven't read it, read it HERE!)
It all happened when I was thinking about how I should present the post and suddenly I thought of an outdoor shoot featuring the items. The problem was that I needed someone to help me shoot the photos. And then my dear cousin, JM, was interested to take up the job! So technically she was the one who made my plan possible.
The green background you see in the post is actually taken in her room. I love how the photos turned out with the green background. Very refreshing don't you think so.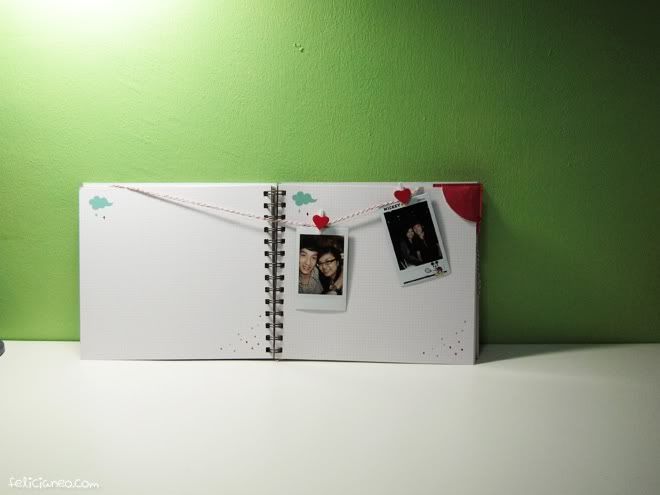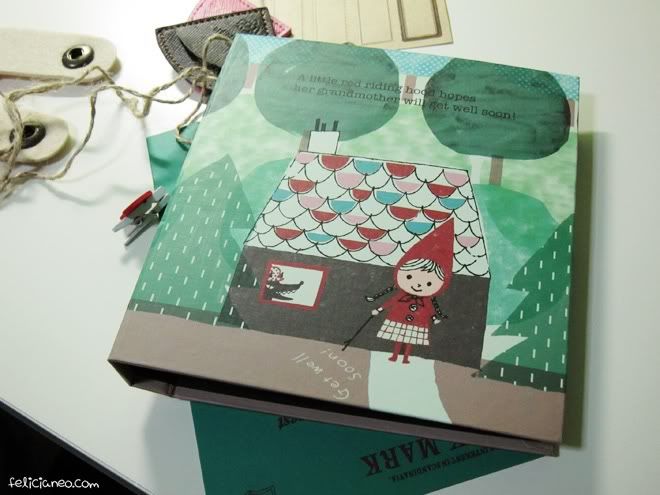 My Instax album I brought along in case I needed props. And hey, they came to good use!

Climbing up on the ladder just to get a perfect shot. Her head was almost reaching the ceiling okay.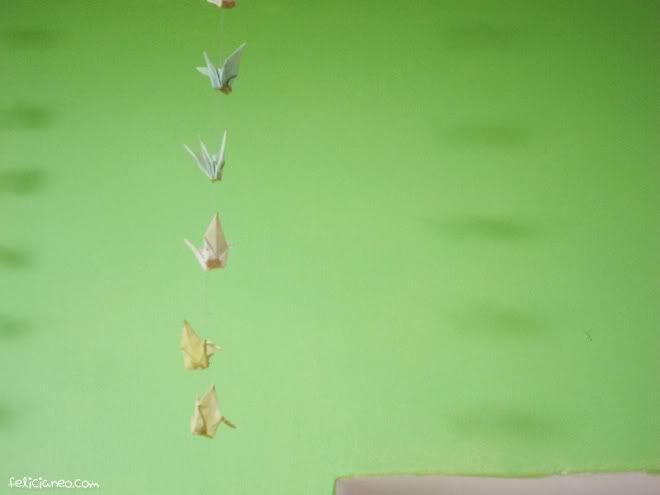 My favourite picture of the shoot in her room.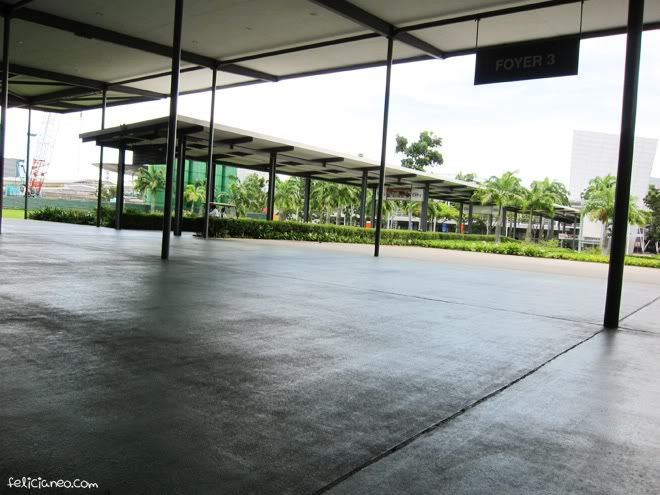 Our outdoor shoot was taken here on an early Monday morning… We were so scared that the security guard would chase us away cos we were like two psychos sitting in the middle of nowhere and tying hair… And still tying hair.. (When they made a second security tour check)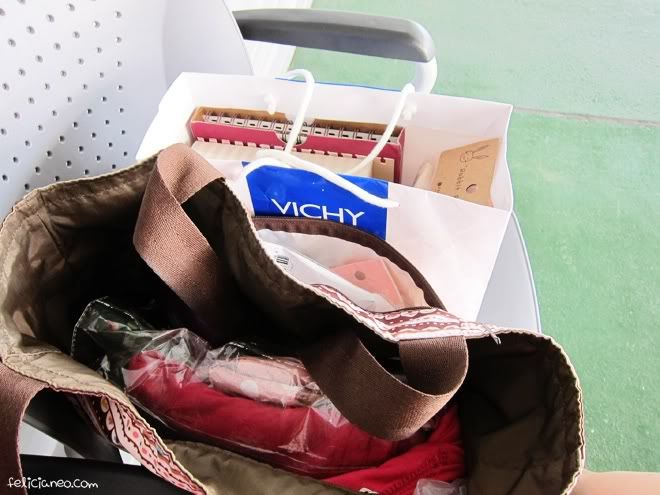 Bag of barang barang.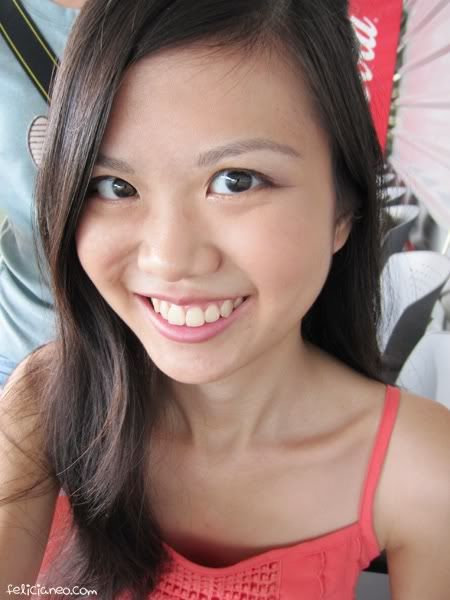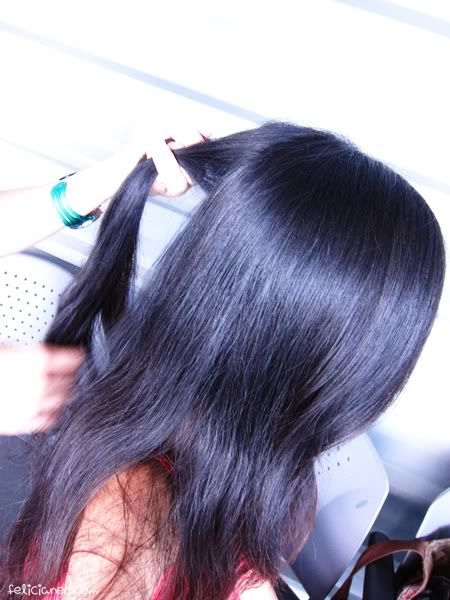 She tied my hair for the day. I think she's pretty good with different hair styles!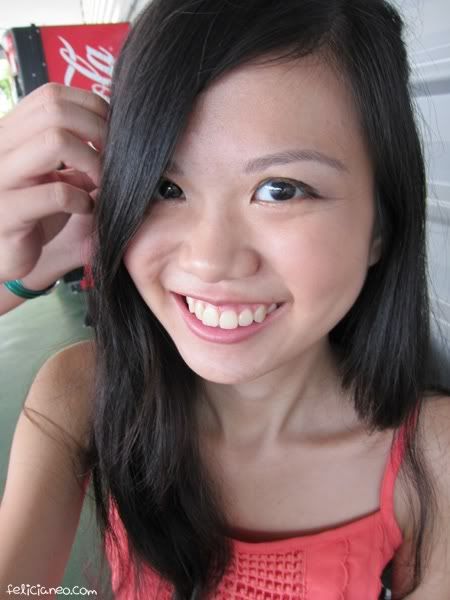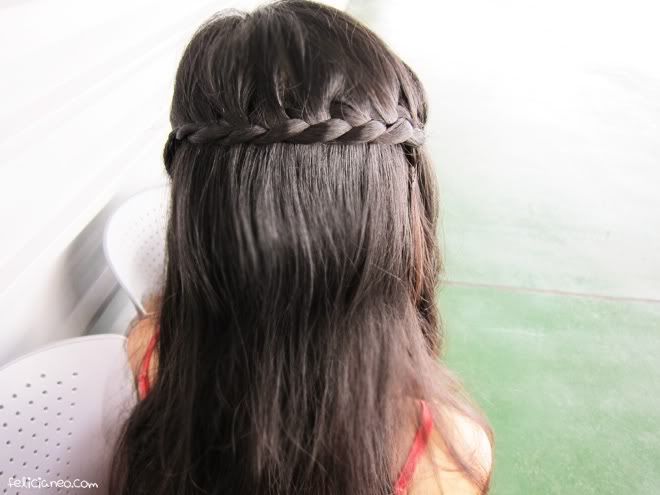 A few 'unreleased' photos haha: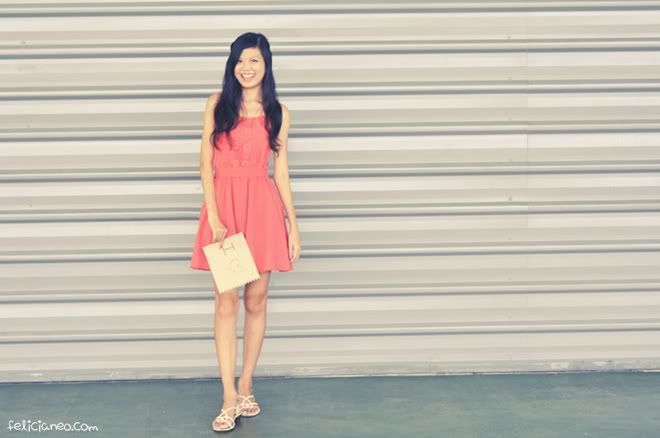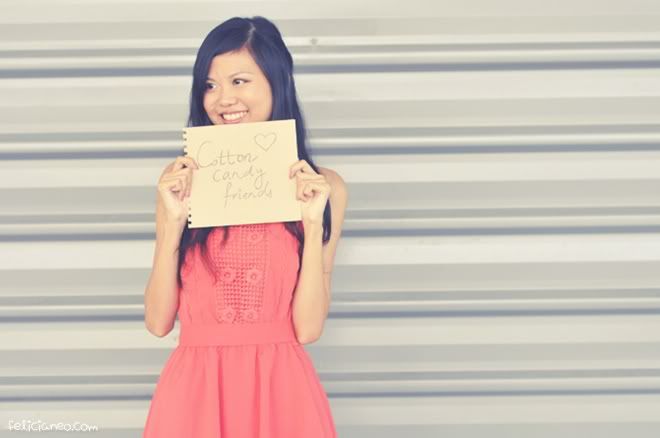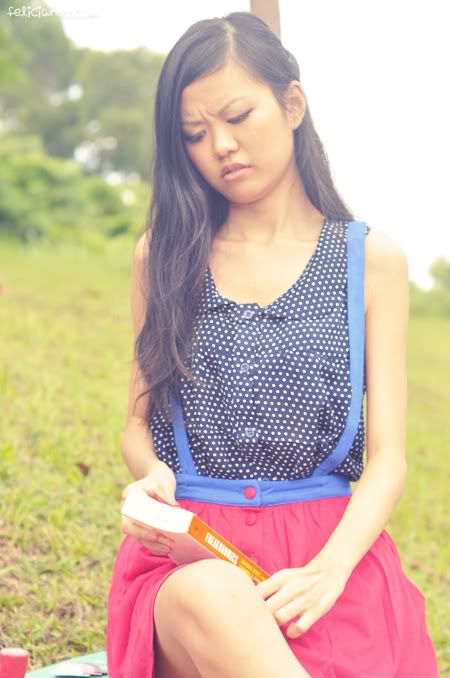 HAHAH look at my face. I think I was grumbling at something and she just snapped.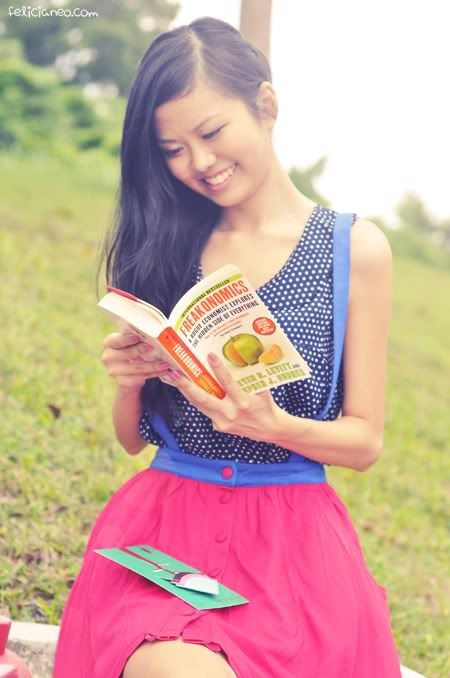 A proper shot!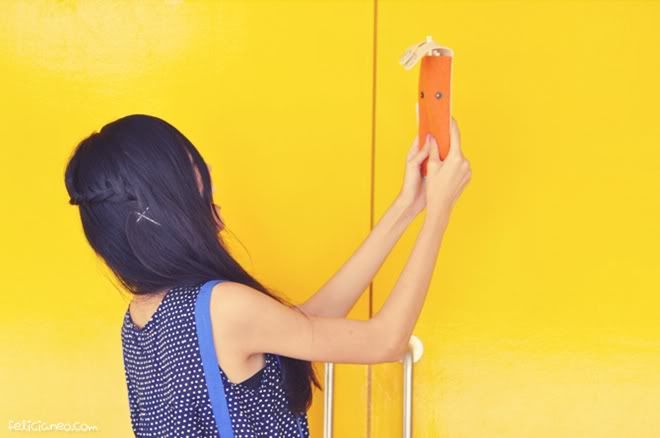 Going a little crazy.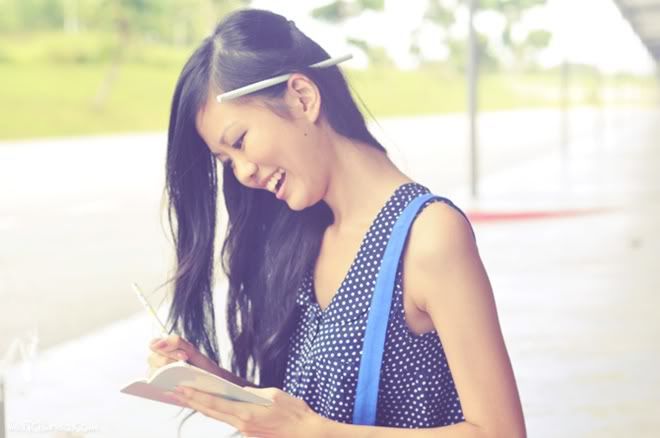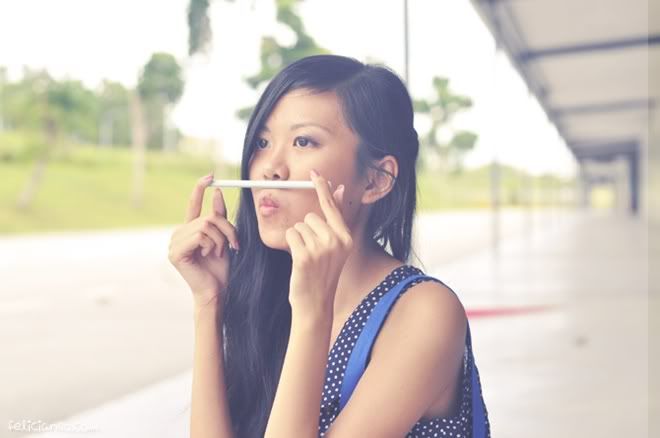 HAHA.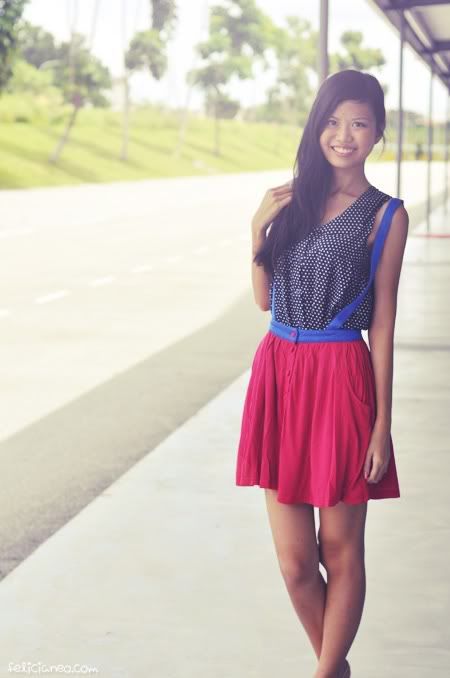 Outfit:
LoveHopeJoy Dotted Sprinkles Top in Dark Blue
TTR Hopping Over The Puddles Suspender Skirt in Cherry Red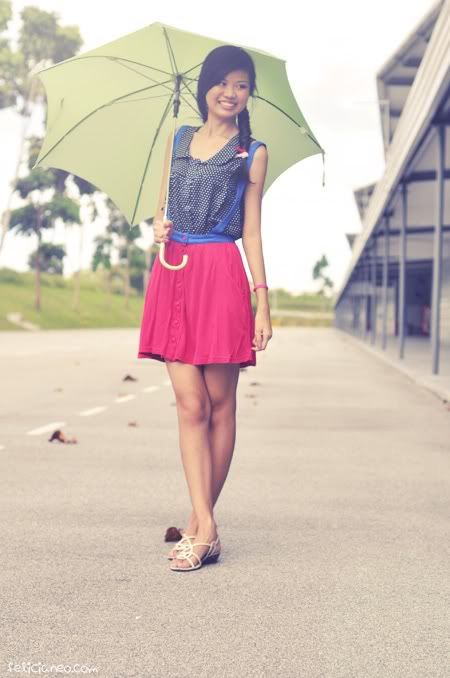 It was raining so she brought her green umbrella out! (bought from Japan)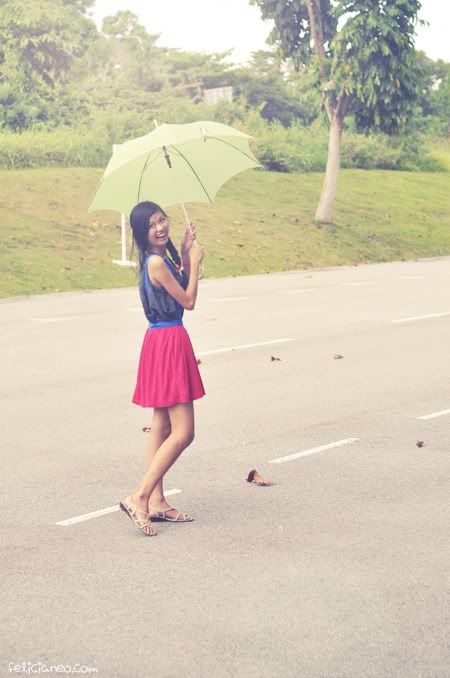 All photos credited to Papaya Shampoo, some photo edits are done by her, and some by myself. You can slowly figure out which is by who if you're very interested okay haha. Btw, my cousin is interested in doing photography for couples/bestfriends/whatever you can think of! Blog Shop shoots also can haha. Her rates are cheap cheap cos she's still a beginner in this field! Can email her @ gocrazylikethis@gmail.com for her rates if you're interested. (:
Anyway, she's thinking of naming her 'company' Papaya Shampoo. Pretty quirky name and easy to remember right! Can check out her blog at http://papayashampoo.blogspot.com Has pretty nice photos on her Flickr  to browse through! (:
Related Posts: